Sycamore Entertainment Group Inc. (OTC: SEGI)
Sycamore Entertainment Group Inc. (OTC: SEGI) is a diversified entertainment company specializing in the acquisition, marketing and worldwide distribution of quality finished feature-length motion pictures.
Through wholly owned subsidiary SEGI.TV, the company offers a streaming experience built on the pillars of equality, sustainability and community. SEGI.TV taps into the changing cultural environment, offering movies and television programming for a diverse audience – all without a subscription fee.
SEGI.TV
Launched in late 2020, SEGI.TV is scheduled to reach 100 million U.S. household televisions and 200 million mobile devices through Roku, Amazon Fire TV, Apple TV, Samsung Smart TV and others. The OTT streaming network operates via an ad-supported video on demand (AVOD) model, allowing Sycamore to control revenue growth by negotiating rates with advertisers as its userbase continues to expand.
The company expects this AVOD model to help SEGI.TV more efficiently grow its market share while avoiding direct competition with subscription service players such as Netflix and Hulu. Other industry players who have leveraged and grown through the ad-based revenue model include Tubi (33 million monthly users, acquired by Fox), YouTube (2 billion monthly users, acquired by Google) and Pluto TV (28 million monthly users, acquired by NBC/Viacom).
SEGI.TV lives up to its brand promise of inclusion, equality and community by:
Attracting Original/Hard-to-Find Content
SEGI.TV features uplifting content aimed at helping its users tap into the changing cultural environment, including movies, TV and sporting events, and the company continues to seek-out new and engaging programming.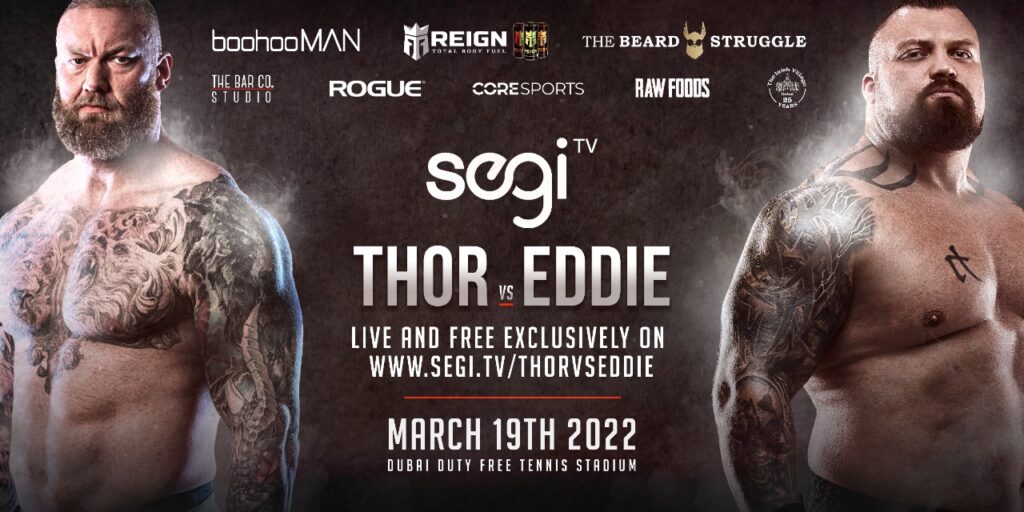 On March 19, 2022, SEGI.TV streamed the long-awaited grudge match between Hafthor Bjornsson and Eddie Hall, former World's Strongest Men. Deemed 'The Heaviest Boxing Match in History', the bout was available to watch in just two clicks for free, without any time-specific trials, paywalled content or sneaky subscriptions.
In speaking about the match, Sycamore CEO Edward Sylvan stated, "With live streaming sports revenues expected to quadruple by 2028, we at SEGI.TV are uniquely positioned to capitalize on this new ad supported model."
Making Inroads with New Users
As consumers continue to shift away from traditional cable and satellite toward OTT streaming, existing options are divided into two primary categories – ad-supported and premium. While industry giants like Netflix, Disney and Apple target customers with non-ad-supported options, SEGI.TV's AVOD model positions it as a solid alternative for individuals who are reluctant to commit to a subscription-based platform.
Increasing Viewership through Branding and Awareness
Sycamore has entered sponsorship agreements for multiple motorsports events in an effort to connect with global influencers and build brand awareness.

Market Opportunity
The gradual move away from traditional cable and satellite TV subscriptions in the U.S. and around the world has created an opportunity for streaming companies to capitalize. According to data from Statista, the number of pay TV households in the U.S. declined from a peak of 100.5 million in 2014 to roughly 73 million in 2021. Likewise, pay TV revenue in the U.S. decreased from $104 billion in 2015 to $74 billion in 2021.
The loss for cable and satellite providers has corresponded with a boom for video-on-demand services. Subscription video-on-demand (SVOD) revenue in the U.S. reached $25 billion in 2021. According to Digital TV Research, AVOD revenues are predicted to more than double between 2018 and 2024 to reach $56 billion across 138 countries. Even SVOD mainstay Netflix is exploring AVOD as a way to combat declining subscription numbers.
As Sycamore continues to expand SEGI.TV with new, unique and eventually premium content, it is uniquely positioned to benefit from this industry trend. Through its FAST (Free Ad-Supported TV) channels, SEGI.TV positions Sycamore as one of only a handful of publicly traded, pure play companies operating in the space.
In an October 2021 report, Variety called FAST "the latest avenue for established media and entertainment companies," and recent moves by entertainment mainstays support this notion. In April 2022, Amazon rebranded its FAST-focused AVOD service to Amazon Freevee and highlighted the rapid growth of the platform, which has tripled its monthly active users.
"Advertising video-on-demand (AVOD) and free ad-supported TV (FAST) channels are the biggest winners of the Streaming Wars, we believe, because 'free' always has the largest TAM (total addressable market)," Laura Martin, an analyst with equity research firm Needham, said in a recent note to clients.
Management Team
Edward Sylvan is the CEO and Co-Founder of Sycamore. He has more than 30 years' experience in the financial service and banking industry. His banking expertise helped cultivate more than 20 years of entertainment industry relationships.
Terry Sylvan is the company's CMO and Co-Founder. He brings to Sycamore more than 25 years of marketing and advertising experience, from global brand assignments to film marketing.