Investment Considerations
Trailing-Twelve-Month (TTM) Revenue increased by 106% YoY to $25.5 million from $12.4 million in the prior 12-month period, outpacing the global industry average by 10x.
TTM EBITDA increased to $2.5 million from -($0.25) million in the prior 12-month period.
The company's Q2 2023 revenue increased by 141% YoY to $7.7 million.
The company has seen a high YoY quarterly revenue growth trend: Q3 2022 – 102%; Q4 2022 – 69%; Q1 2023 – 109%.
SuperCom's recurring revenue represents 73% of total revenue.
Approximately $200 million in EU contracts up for award in the upcoming 18 months.
Over 65% win rate in national government tender in the EU.
High entry barriers, requiring 5-10 years of specific industry experience, with only 10 global players.
More than $40m invested in the research and development of the Puresecurity suite.
SuperCom Ltd. (NASDAQ: SPCB) provides secured solutions for the e-government, IoT and cybersecurity sectors. Since 1988, the company has been a trusted global provider of traditional and digital identity offerings, providing cutting-edge electronic and digital security solutions to governments and organizations, both private and public, around the world.
SuperCom's mission is to revolutionize the public safety sector worldwide through proprietary electronic monitoring technology, data intelligence, and complementary services.
The company is headquartered in Tel Aviv, Israel, with offices in California and other regions in the U.S.
Business Units
IoT and Connectivity
SuperCom IoT products and solutions provide advanced electronic monitoring solutions and services to criminal justice agencies, enabling customers to detect unauthorized movement of people, vehicles, and other monitored objects. The company provides an all-in-one, field-proven PureSecurity offender monitoring suite, accompanied by services such as GPS monitoring, home detention, domestic violence prevention, and more. The company's services are specifically tailored to meet each client's needs.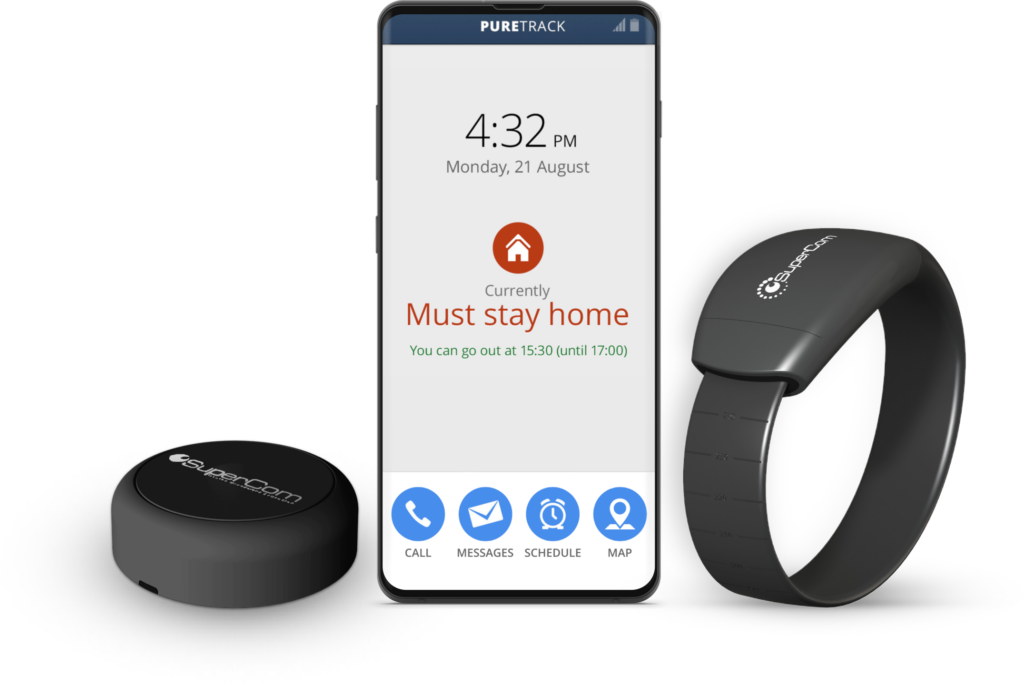 SuperCom's proprietary Puresecurity suite of hardware, connectivity, and software components is the foundation for its criminal justice services and offerings. SuperCom is leveraging its extensive technology expertise to implement groundbreaking artificial intelligence (AI) technologies into various parts of its core offerings. By leveraging the power of AI, SuperCom's PureSecurity platform can offer new abilities, such as amplified data analysis, predictive modeling, and streamlined automation – all geared toward optimizing decision-making and operational efficiency.
Competitive advantages of SuperCom's technology include:
Long Battery Life (No Tag Charging Required)
Ultra Lightweight Form Factor
Next-Gen Location Tech
Protection of Domestic Violence Victims
And More
Cybersecurity
In 2015, SuperCom identified the cybersecurity market as a fast-growing space with significant advantages due to synergistic technologies and a shared customer base with its e-Gov and IoT business units. Consequently, SuperCom strategically acquired Prevision Ltd., a company with a strong presence in the market and a broad range of competitive cybersecurity services.
During the first quarter of 2016, SuperCom acquired Safend Ltd., an international provider of cutting-edge endpoint data protection guarding against corporate data loss and theft through content discovery and inspection, encryption methodologies, and comprehensive device and port control.
Both acquisitions significantly expanded the breadth of the company's global cybersecurity capabilities.
e-Gov
Through proprietary e-government platforms and innovative solutions for traditional and biometrics enrollment, personalization, issuance, and border control services, SuperCom has helped governments, and national agencies design and issue secured multi-identification, or Multi-ID, documents and robust digital identity solutions to their citizens, visitors, and lands.
The company has focused on expanding its activities in the traditional identification, or ID, and electronic identification, or e-Gov, markets, including the design, development, and marketing of identification technologies and solutions to governments in Europe, Asia, America, and Africa using SuperCom's e-Government platforms.
Market Opportunity
Data from Berg Insight estimates the market for electronic monitoring solutions will grow from $1.2 billion in 2021 to $2.1 billion in 2026, marking a CAGR of 10.8% for the forecast period.
High recidivism rates, prison overcrowding, and soaring incarceration costs are some factors that are driving the electronic monitoring of offenders' market growth.
An analysis by ReportLinker forecasts that the global cybersecurity market will grow from an estimated value of $173.5 billion in 2022 to $266.2 billion by 2027, achieving a CAGR of 8.9% for the period.
The increased number of data breaches worldwide, the ability of malicious actors to operate from anywhere in the world, the links between cyberspace and physical systems, and the difficulty of reducing vulnerabilities and consequences in complex cyber networks are some factors driving the cybersecurity market growth.
Management Team
Ordan Trabelsi is President and CEO of SuperCom. He has over 15 years of experience as CEO, growing high-tech companies globally. He also has experience in research and development and product innovation, as well as hands-on experience in cybersecurity, encryption, advanced mathematics, and mobile and internet network technologies. Prior to joining SuperCom, he served as co-founder and CEO of Klikot Inc., a global social networking company. He holds an MBA from Columbia University and a B.Sc. in Computer Engineering from The Technion: Israel Institute of Technology.
Barak Trabelsi is COO of SuperCom. He has expertise in big data, cyber, mobile, and internet network technologies, as well as extensive experience in product development and strategies. Prior to joining SuperCom, he served as Senior Product Manager at Equinox Ltd. Before that, he served for four years as VP of R&D at Sigma Wave, a wireless, security, and internet-focused company. He holds a B.Sc. in Computer Science and Business, as well as an MBA from Tel Aviv University.
Gil Alfi is VP of Sales at Safend Ltd., SuperCom's cybersecurity subsidiary. He joined SuperCom in 2016 as VP of Business Development for Safend. He has more than 18 years of experience in technology companies. He served as an R&D team technology lead for more than seven years and as Director of Product Management for various telecom and wireless companies for more than 10 years. Prior to joining SuperCom, he served as Regional Sales Director at Safend, managing sales regions in Europe and Africa. He holds a B.Sc. in Computer Science and Mathematics and an M.Sc. in Computer Science from Bar-Ilan University.