GeoSolar Technologies Inc.
Interested Investors
Interested in investing with GeoSolar Technologies Inc.? View GeoSolar's Reg A offering page.
GeoSolar Technologies Inc. ("GST") is a Colorado-based climate technology company and the creator of the Smart Green Home system for newly built and existing residences and commercial buildings. The company is focused on revolutionizing the way we heat, cool and power homes with 100% natural energy sources. Its patent-pending integrated system harnesses energy from the earth and sun to power and purify homes and automobiles without the use of fossil fuels.
In a GST home, the sun's energy is captured on the roof to generate all of the electricity required. Additionally, the consistent climate of the earth is used to keep the home at a perfect temperature year-round, and the company's proprietary air purifying unit ensures that the air inside the home is safe and healthy.
GST's home technology has been installed in multiple test homes in Colorado and achieved exceptional results, including some of the most impressive energy efficiency ratings (HERS) in the industry.
GeoSolar Technologies is currently accepting investment as part of a Regulation A+ offering. Everyone* can invest now for as little as $300. For more information, visit the company's profile on Manhattan Street Capital and review its Offering Circular.
GeoSolar Technologies Inc. ("GST") has been qualified by the U.S. Securities and Exchange Commission (SEC) to conduct a Regulation A+ capital raise. GST already makes quarterly and annual filings with the SEC and is subject to quarterly PCAOB audits. This is the first time shares of GeoSolar Technologies are being made available for public purchase. Upon completion of this Regulation A+ offering, the company intends to seek a listing of its stock.
The Decarbonization Movement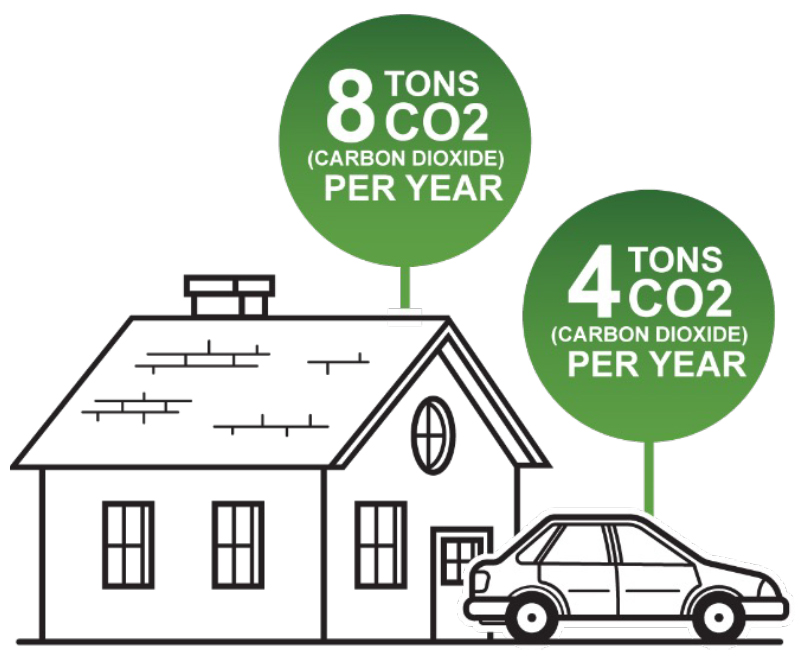 Soaring and unstable energy/fuel costs continue to highlight the importance of rethinking the traditional approach to powering homes, from top to bottom. While most everyone is well aware of the remarkable, multi-trillion-dollar opportunity the electric vehicle transformation offers to investors (in addition to the benefits to the climate problem), few recognize that the all-electric home market is as large as electric vehicles and equally important to reducing carbon emissions.
U.S. energy expenditures clocked in at $3,891 per person in 2018, leading to estimated spending of $1.3 trillion on energy that year alone. Despite this, fewer than 3% of U.S. homes are currently powered by solar. This number is poised to increase exponentially as both new and existing residences transition to zero carbon models.
GST estimates that if all the homes in America were powered by its technology, carbon pollution could be reduced by an estimated 1.9 trillion pounds per year, greatly reducing the negative impacts on our climate.
GeoSolarPlus
The GeoSolarPlus ("GSP") system combines solar power, geothermal ground-sourced energy and AI system management with air filtration and monitoring into one fully integrated system.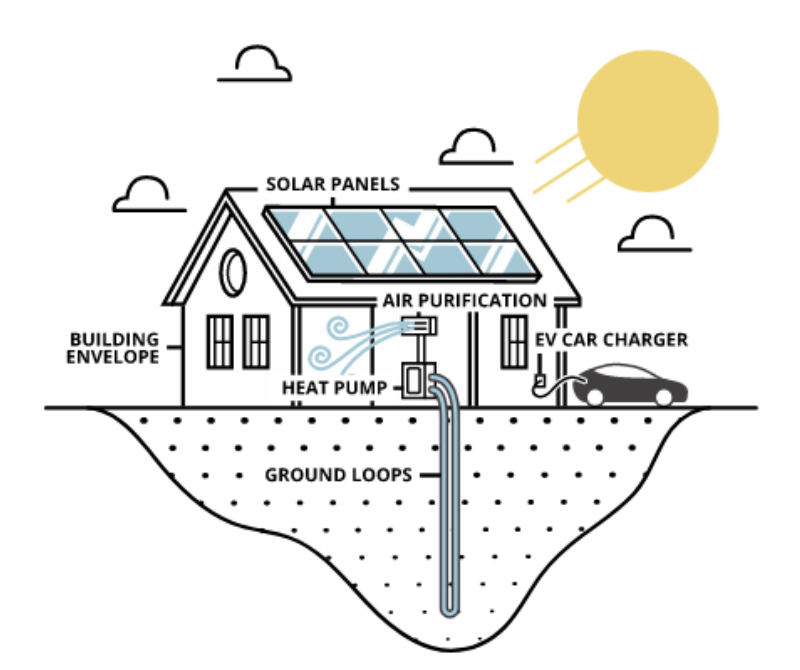 Key benefits of the GSP system include:
Making a real planet-changing difference in reducing air pollution
Eliminating or significantly reducing homeowners' future utility bills
Enjoying lifetime energy independence and protection from price escalation and energy shortages
Eliminating greenhouse gas emissions from operation of home and daily life
Increasing home value
An integrated design for seamless operation of renewable energy systems
Maintaining a significantly healthier living environment
Leveraging existing renewable energy tax credits and electrification incentives
Creating stable jobs capable of supporting families in the decarbonized future
Click here to learn more about how GeoSolarPlus works.
Management Team
The GST leadership and management team includes some of the world's most experienced and respected leaders in the fields of decarbonization and sustainable homes.
Stone Douglass is the Chairman and CEO of GST. He is a seasoned, 30-year public company executive and former Chairman and CEO of the Piper Aircraft Company.
Brent Mosbarger is the company's Co-Founder and leads its commercial operations. He is a highly respected solar engineer whose experience includes roles with Chevron Energy's green operations and serving as project manager and executive for a $400 million solar/geothermal innovation project.
Peter Romenesko is a Senior Strategic Advisor with GST. He brings to the company considerable experience as an engineer and large-scale project manager for Johnson Controls and Siemens.
Dr. Norbert Klebl is the company's Co-Founder and Development Director. Recognized as one of the world's leading experts in the field of zero-carbon innovation, he is a former McKinsey partner of 16 years with an MBA from Columbia.
Dar-Lon Chang is GST's Director of New Product Development. Prior to joining GST, he had a 16-year career with ExxonMobil Energy Research. He received his PhD in engineering from the University of Illinois.
* Must be over 18, certain states are not currently available and will be added soon.