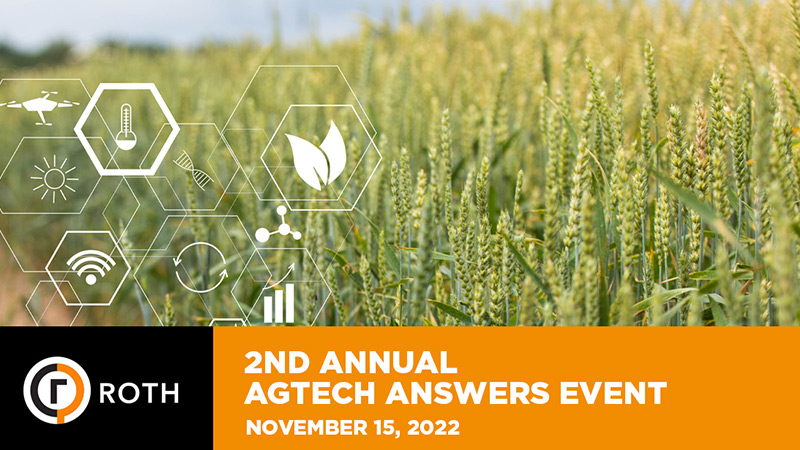 IBN ("InvestorBrandNetwork"), an innovative corporate communications firm and content distributor, today announces their collaboration with ROTH Capital Partners ("ROTH") for the 2nd Annual AgTech Answers Event on Nov. 15, 2022, at 1 Hotel Central Park, 1414 Avenue of the Americas (58th Street), New York City.
The upcoming event offers institutional investors and capital-seeking small and mid-cap companies an opportunity to explore potential synergies and build lasting partnerships in the rapidly evolving area of AgTech.
As an official media sponsor, IBN will leverage its vast array of extensive corporate communications solutions to drive the event's visibility via an array of digital news outlets, social media networks and other forms of outreach.
"ROTH Capital Partners is well known for their decades of in-depth research, insightful advisory and state-of-the-art conference production. Key topics of this upcoming event include the shift towards climate-friendly agriculture, the importance of alternative sources of nutrition, the need to address soil pollution, maintaining the sanctity of global supply chains, uncertain weather patterns and the wider adoption of technology," said Jonathan Keim, communications director for IBN. "As with previous ROTH events, IBN will leverage its network of thousands of downstream publishers to reach a wider audience via online channels."
The 2nd Annual AgTech Answers Event will facilitate 40-minute small group meetings, one-on-one conversations between investors and senior management and fireside chats with selected companies, ensuring an productive environment for parties to gauge investment compatibility and forge meaningful relationships.
The coming transformation in agriculture is poised to be a central pillar of the next two decades, with a host of easy-to-use applications for managing insurance risks, raising farmer incomes and ensuring broader nutritional security. Rising protectionism, surging food inflation, dynamism in technological adoption, the need for improved yield, deteriorating soil quality, a shift towards vegetarian diets and the higher risks of lowered immunity have thrust the sector into the forefront of investor discourse.
The 2nd Annual AgTech Answers Event will offer companies and investors exciting opportunities to collaborate in this increasingly crucial sector.
About InvestorBrandNetwork
IBN consists of a Dynamic Brand Portfolio (DBP) introduced to the investment public over the course of 15+ years. Through this portfolio of brands, IBN provides (1) access to our Investor Press Release Wire Solutions via InvestorWire (IW) to reach all target markets, industries and demographics in the most effective manner possible; (2) article and Code Editorial Syndication to 5,000+ broadcast outlets; (3) enhanced press release solutions via IW to ensure maximum impact; (4) full-scale distribution to an enormous social media audience that includes millions of followers; and (5) a full array of corporate communications solutions focused on the IBN Podcast Series. With a proven track record serving 500+ client partners, IBN is the key to a more effective market communication campaign and the NEW normal.
For more information on IBN, please visit https://www.InvestorBrandNetwork.com
Please see full terms of use and disclaimers on the InvestorBrandNetwork website applicable to all content provided by IBN, wherever published or re-published: http://IBN.fm/Disclaimer