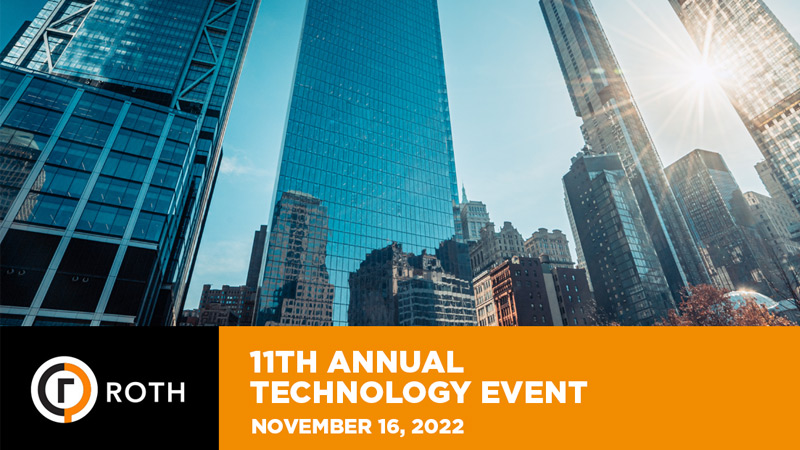 IBN ("InvestorBrandNetwork"), an innovative corporate communications firm and content distributor, announces today its collaboration with ROTH Capital Partners ("ROTH") on the occasion of their 11th Annual Technology Event on Nov. 15-16, 2022, at the Yale Club in New York City.
The upcoming event offers seasoned institutional investors and capital-seeking small and mid-cap companies unique opportunities to explore potential synergies and build robust relationships in rapidly evolving technology verticals and associated sub-sectors.
As an official media sponsor, IBN will leverage its extensive corporate communications solutions to heighten the event's visibility across an array of targeted digital channels while strategically cultivating a strong social media presence and optimizing outreach initiatives.
"The tech sector will continue to be a key component of the future economy, driving quality improvements, productivity leaps and increased profitability," stated IBN Communications Director Jonathan Keim. "As with ROTH's previous events, IBN will leverage its investor-oriented brands and thousands of downstream publishers to digitally engage with millions of investors."
The 11th Annual Tech Event will facilitate 40-minute small-group meetings and one-on-one conversations between institutional investors and senior management, driving deep exploration of compatibility and potential partnerships.
About InvestorBrandNetwork
IBN consists of a Dynamic Brand Portfolio (DBP) introduced to the investment public over the course of 15+ years. Through this portfolio of brands, IBN provides (1) access to our Investor Press Release Wire Solutions via InvestorWire (IW) to reach all target markets, industries and demographics in the most effective manner possible; (2) article and Code Editorial Syndication to 5,000+ broadcast outlets; (3) enhanced press release solutions via IW to ensure maximum impact; (4) full-scale distribution to an enormous social media audience that includes millions of followers; and (5) a full array of corporate communications solutions focused on the IBN Podcast Series. With a proven track record serving 500+ client partners, IBN is the key to a more effective market communication campaign and the NEW normal.
For more information on IBN, please visit https://www.InvestorBrandNetwork.com
Please see full terms of use and disclaimers on the InvestorBrandNetwork website applicable to all content provided by IBN, wherever published or re-published: http://IBN.fm/Disclaimer