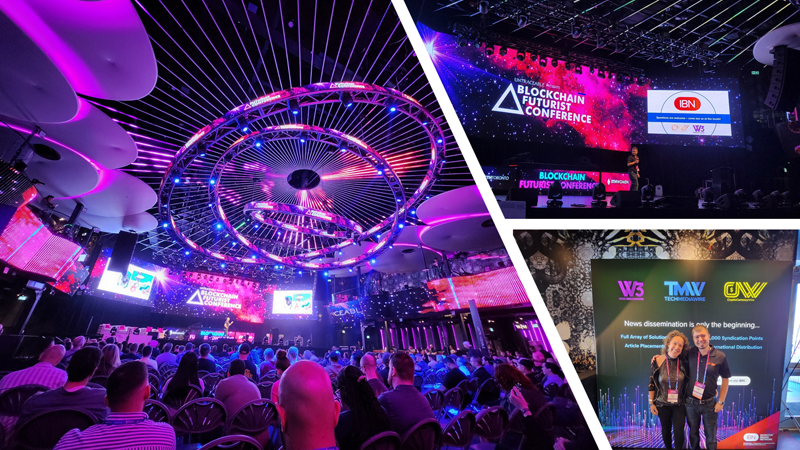 The event showcased emerging tech trends, attracting the largest attendance for a Web3-focused conference in Canadian history.
Untraceable's flagship event, the Blockchain Futurist Conference, took place recently at the iconic Rebel Entertainment Complex and Cabana Pool Bar. With a decade of nurturing Toronto's blockchain community and hosting related events, Untraceable has established a premier platform for the pioneers of the fourth industrial revolution, aspiring storytellers and deeper trust in the crypto economy.
As the largest Web3 gathering in Canadian history, this year's Blockchain Futurist Conference brought together global thought leaders and industry luminaries to explore the rapidly evolving technological landscape, hidden opportunities and ever-rising number of innovative applications.
The conference, a cornerstone of Canada Crypto Week, attracted thousands of attendees, including developers, visionaries, startup entrepreneurs, investors, financial institutions representatives, technology enthusiasts and nearly 200 speakers.
The multi-day event featured two core content themes: Crypto, covering topics like DeFi, payments, TRADFI, stablecoins, DAOs, and regulation; and Web3, focusing on NFTs, the metaverse, gaming, privacy, social impact, digital identity and data protection.
Distinguished speakers included Anthony Di Iorio, Founder of Decentral and Co-Founder of Ethereum; Michele Romanow, Co-Founder and Executive Chairman of Clearco; Charles Hoskinson, CEO and Founder, IO Global; Ethan Buchman, Co-Founder of Cosmos and CEO of Informal Systems; Hon. Michelle Rempel Garner, P.C., Member of Parliament for Calgary Nose Hill; and Tracy Leparulo, CEO of Untraceable.
The conference featured numerous engaging events simultaneously, including Stratos Builder House, Informal Systems Presents Cosmos Meetup, Loot8 & Synthtopia performance, The Future is Wild NFT tour, ICP North America Launch Event, Canadian DeepDive Unconference, Mentorship Hours & Career Connect, and the Shib.io Summer of Shibarium Closing Cabana Party. Additionally, the conference hosted the ETHToronto Hybrid Hackathon, ETHWomen Hackathon and educational bootcamps.
During a main-stage session titled "Public Relations and Web3 Technologies," Jonathan Keim, IBN's Director of Communications, provided insights into leveraging Web3 strategies for greater engagement through news channels. Keim highlighted the power of well-crafted press releases for instant dissemination across credible news channels and provided an overview of supporting media strategies that could be leveraged by any startup, well-established leader or communications professional.
Keim's presentation zoned in on four key points – leveraging the power of Web3 when making announcements, maximizing the effectiveness of published content, reaching out to relevant journalists and building a strategic plan to position brands for lasting success.
In just the past four years, the crypto community has boomed from 20 million worldwide to over 400 million. The associated explosion of multi-functional wallets, digital tokens and new use cases has made it possible to reach out to a massive audience at a breathtaking pace. Keim noted that this provides an incredible opportunity for wider outreach.
To request a recording of Jonathan Keim's session, use the following form: www.ibn.fm/contact
As part of its collaboration as an official newswire and a key sponsor of the event, IBN's CryptoCurrencyWire syndicated articles throughout its multifaceted network of 5,000+ downstream partners while enhancing media exposure through dozens of IBN's investor-oriented brands. The multi-month media campaign also included ongoing outreach to crypto-friendly journalists via wire-grade press releases.
"Tracy, Mahyar, Laura, dedicated volunteers and a host of other amazing people behind the Blockchain Futurist Conference have created a conference experience like no other. The annual conference series continues to build momentum as more and more people in the tech space take notice of the new possibilities being unlocked by blockchain technologies," stated Keim. "Our whole team greatly appreciates every opportunity to be part of Untraceable's events."
About Untraceable
Untraceable is the first event marketing agency within the blockchain community in Canada. Founded in 2013 to help build and grow the crypto community, Untraceable provides a full suite of event marketing and advisory services. Untraceable specializes in designing cutting-edge events and marketing campaigns by seamlessly integrating crypto ticketing, event apps, token creation, and innovative tech solutions. Untraceable has organized hundreds of events from the first Bitcoin Expo in Canada to the first Ethereum hackathon, ETHWaterloo, Polycon, and Canada's largest blockchain event, Futurist Conference.
For more information on Untraceable, please visit https://www.untraceableinc.com
About IBN
IBN consists of financial brands introduced to the investment public over the course of 17+ years. With IBN, we have amassed a collective audience of millions of social media followers. These distinctive investor brands aim to fulfill the unique needs of a growing base of client-partners. IBN will continue to expand our branded network of highly influential properties, leveraging the knowledge and energy of specialized teams of experts to serve our increasingly diversified list of clients.
Through our Dynamic Brand Portfolio (DBP), IBN provides: (1) access to a network of wire solutions via InvestorWire to reach all target markets, industries and demographics in the most effective manner possible; (2) article and editorial syndication to 5,000+ news outlets; (3) Press Release Enhancement to ensure maximum impact; (4) full-scale distribution to a growing social media audience; (5) a full array of corporate communications solutions; and (6) total news coverage solutions.
For more information, please visit https://www.InvestorBrandNetwork.com
Please see full terms of use and disclaimers on the InvestorBrandNetwork website applicable to all content provided by IBN, wherever published or re-published: http://IBN.fm/Disclaimer