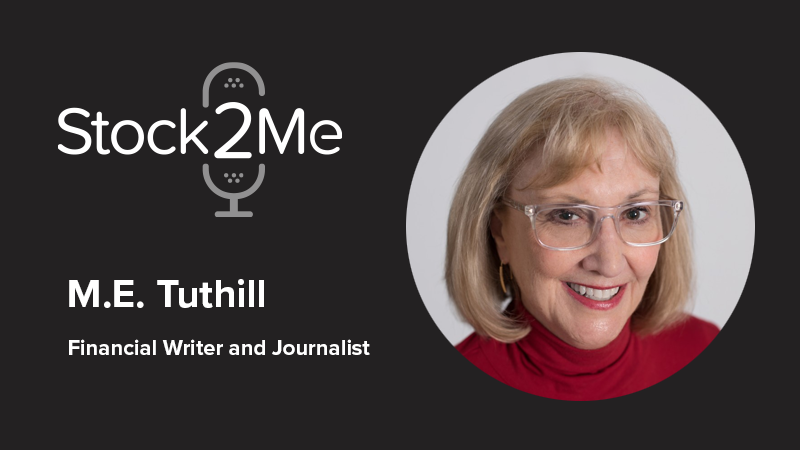 IBN, a multifaceted communications organization engaged in connecting public companies to the investment community, is pleased to announce the release of the latest episode of The Stock2Me Podcast as part of its sustained effort to provide specialized content distribution via widespread syndication channels.
The Stock2Me Podcast features a fascinating array of companies and individuals, many of whom are actively revolutionizing age-old business practices within their respective markets. Stock2Me's latest podcast features M.E. Tuthill, a financial writer and journalist and author of Repo-Madness: A Simpleton's Guide to the Street's Wicked Ways, a book aiming to blow the lid off what has come to be known as the shadow banking system.
To begin the interview, Tuthill discussed her background.
"I was born and raised outside of Boston, Massachusetts, and I spent the earlier part of my career in broadcasting as a radio journalist. After 10 years of that… I was ready for a change. I decided to take a big leap – and I mean big… I decided to become a financial advisor," Tuthill said. "I did that for 13 years, and it was a really good experience. I learned a lot about money. Ironically, though, I was in all these brokerage firms, and I knew nothing about what I'm now writing about, which is the huge market and the financial system."
"After 13 years, I'd had enough of that… I got a position as a financial writer at iMoneyNet… I wrote articles about money market funds. When I first got the job I thought, 'Oh this is great, I've got a 9-to-5 and a steady paycheck,' but money market funds weren't really that exciting to write about. When the financial crisis hit, everything changed. Those funds had such an integral role in what happened. For the next nine years after that happened, I wrote every week and every day about the money market funds and the shadow banking system in general. I got addicted to it; I got hooked on it."
Tuthill then provided an introduction to Repo-Madness: A Simpleton's Guide to the Street's Wicked Ways by discussing the concept of shadow banking.
"To steal a definition from Ellen Brown, who has a wonderful book called Banking on the People, shadow banking is when financial intermediaries not subject to regulatory oversight are involved in facilitating the creation of credit across the global financial system, as well as other unregulated activities by regulated institutions… As a metaphor, I like people to think of the planet encased in fiber optic cables, so that when you look at it from the moon, it looks like a giant ball of twine. In these cables are trillions and trillions of transactions, spilling out profits for the fortunate few. These cables are above our heads – nobody sees them, we're not aware of them and yet this huge swath of money that should be redirected into the real economy to help people is encapsulated in those cables."
Join IBN's Stuart Smith and financial writer and journalist M.E. Tuthill to learn more about the early days of the shadow banking system and how it evolved leading up to the global financial crisis of 2008.
To hear the whole podcast and subscribe for future episodes, visit https://podcast.stock2me.com.
The latest installment of The Stock2Me Podcast continues to reinforce IBN's commitment to the expansion of its robust network of brands, client partners, followers and the growing IBN Podcast Series. For more than 17 years, IBN has leveraged this commitment to provide unparalleled distribution and corporate messaging solutions to 500+ public and private companies.
To learn more about IBN's achievements and milestones via a visual timeline, visit: https://IBN.fm/TimeLine
About IBN
IBN consists of financial brands introduced to the investment public over the course of 17+ years. With IBN, we have amassed a collective audience of millions of social media followers. These distinctive investor brands aim to fulfill the unique needs of a growing base of client-partners. IBN will continue to expand our branded network of highly influential properties, leveraging the knowledge and energy of specialized teams of experts to serve our increasingly diversified list of clients.
Through our Dynamic Brand Portfolio (DBP), IBN provides: (1) access to a network of wire solutions via InvestorWire to reach all target markets, industries and demographics in the most effective manner possible; (2) article and editorial syndication to 5,000+ news outlets; (3) Press Release Enhancement to ensure maximum impact; (4) full-scale distribution to a growing social media audience; (5) a full array of corporate communications solutions; and (6) total news coverage solutions.
For more information, please visit https://www.InvestorBrandNetwork.com
Please see full terms of use and disclaimers on the InvestorBrandNetwork website applicable to all content provided by IBN, wherever published or re-published: http://IBN.fm/Disclaimer
Forward-Looking Statements
This release contains forward-looking statements within the meaning of Section 27A of the Securities Act of 1933, as amended and Section 21E of the Securities Exchange Act of 1934, as amended. All forward-looking statements are inherently uncertain as they are based on current expectations and assumptions concerning future events or future performance of the company. Readers are cautioned not to place undue reliance on these forward-looking statements, which are only predictions and speak only as of the date hereof. In evaluating such statements, prospective investors should review carefully various risks and uncertainties identified in this release and matters set in the company's SEC filings. These risks and uncertainties could cause the company's actual results to differ materially from those indicated in the forward-looking statements.