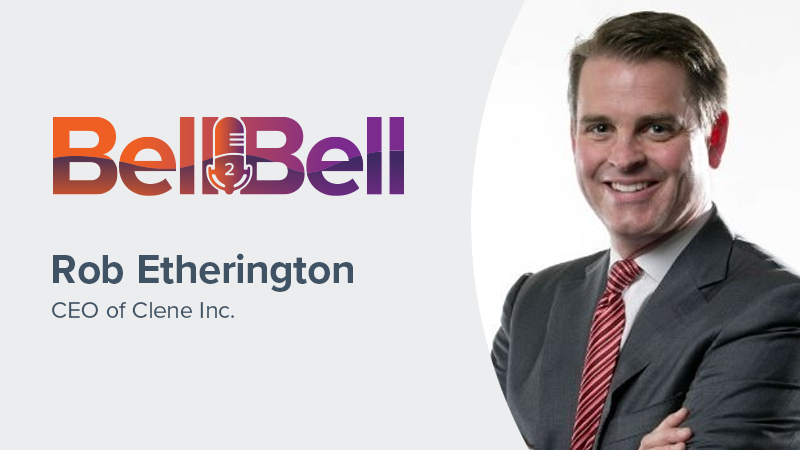 IBN, a multifaceted communications organization engaged in connecting public companies to the investment community, is pleased to announce the release of the latest episode of The Bell2Bell Podcast as part of its sustained effort to provide specialized content distribution via widespread syndication channels.
The Bell2Bell Podcast delivers informative updates and exclusive interviews with executives operating in fast-moving industries. Bell2Bell's latest podcast features Rob Etherington, President and CEO of Clene Inc., a late clinical-stage biopharmaceutical company focused on improving mitochondrial health and protecting neuronal function to treat neurodegenerative diseases.
To begin the interview, Etherington provided an introduction to Clene's business model and discussed recent developments providing hope to those affected by neurodegenerative conditions.
"Clene spends every waking moment working on amyotrophic lateral sclerosis (ALS), a devastating neurodegenerative condition. We are focused on neurodegenerative diseases generally – including multiple sclerosis and Parkinson's – but our body of evidence that has really come to the forefront in the last few years has been all around ALS," Etherington explained. "The timing is important because this remains a remarkably devastating disease with life mortality of 3-5 years from diagnosis. It remains uniformly and universally fatal… It's just devastating and tragic."
"Gratefully, the U.S. FDA has approved, in the last year, two new drugs: one for a very rare form of the disease that is a genetic, inborn error that runs in a devastating way through families, and, for general ALS, another drug was approved last November. Thankfully, there are many drugs in development presently, including our own drug, CNM-Au8®."
Etherington then discussed his background and what inspired him to join Clene.
"I spent nine years at Pfizer straight from grad school… then… I spent 13 years, participating in the growth of Actelion into the largest biotech in Europe prior to its sale to Johnson & Johnson. Some investors rang me up after these two tenures and said they were doing something markedly different – pioneering a new drug class that has the ability to improve the way mitochondria work, enabling the mitochondria to take care of its own housekeeping and, in particular, to increase one of the most important bioenergetic metabolites that our central nervous systems and our brains use for energy… If Clene can provide a survival benefit and/or a functional change… that's the passion that we live our lives trying to resolve. Over the past two years, a lot of clinical data has developed from our programs that has taught us what tremendous opportunity Clene has to help these patients that have ALS."
Join IBN's Stuart Smith and Rob Etherington, President and CEO of Clene Inc., to learn more about the science behind Clene's nanocatalyst technology, as well as the company's recent milestones.
To hear the whole podcast and subscribe for future episodes, visit https://podcast.stock2me.com.
The latest installment of The Stock2Me Podcast continues to reinforce IBN's commitment to the expansion of its robust network of brands, client partners, followers and the growing IBN Podcast Series. For more than 17 years, IBN has leveraged this commitment to provide unparalleled distribution and corporate messaging solutions to 500+ public and private companies.
To learn more about IBN's achievements and milestones via a visual timeline, visit: https://IBN.fm/TimeLine
About Clene
Clene Inc. (along with its subsidiaries, "Clene"), and wholly owned subsidiary Clene Nanomedicine Inc., is a late clinical-stage biopharmaceutical company focused on improving mitochondrial health and protecting neuronal function to treat neurodegenerative diseases, including amyotrophic lateral sclerosis, Parkinson's disease and multiple sclerosis. CNM-Au8® is a federally registered trademark of Clene Nanomedicine Inc. The company is based in Salt Lake City, Utah, with R&D and manufacturing operations in Maryland.
For more information, visit the company's website at www.clene.com, or follow Clene on Twitter, LinkedIn and Facebook.
About IBN
IBN consists of financial brands introduced to the investment public over the course of 17+ years. With IBN, we have amassed a collective audience of millions of social media followers. These distinctive investor brands aim to fulfill the unique needs of a growing base of client-partners. IBN will continue to expand our branded network of highly influential properties, leveraging the knowledge and energy of specialized teams of experts to serve our increasingly diversified list of clients.
Through our Dynamic Brand Portfolio (DBP), IBN provides: (1) access to a network of wire solutions via InvestorWire to reach all target markets, industries and demographics in the most effective manner possible; (2) article and editorial syndication to 5,000+ news outlets; (3) Press Release Enhancement to ensure maximum impact; (4) full-scale distribution to a growing social media audience; (5) a full array of corporate communications solutions; and (6) total news coverage solutions.
For more information, please visit https://www.InvestorBrandNetwork.com
Please see full terms of use and disclaimers on the InvestorBrandNetwork website applicable to all content provided by IBN, wherever published or re-published: http://IBN.fm/Disclaimer
Forward-Looking Statements
This press release contains "forward-looking statements" within the meaning of Section 21E of the Securities Exchange Act of 1934, as amended, and Section 27A of the Securities Act of 1933, as amended, which are intended to be covered by the "safe harbor" provisions created by those laws. Clene's forward-looking statements include, but are not limited to, statements regarding our or our management team's expectations, hopes, beliefs, intentions or strategies regarding our future operations. In addition, any statements that refer to projections, forecasts or other characterizations of future events or circumstances, including any underlying assumptions, are forward-looking statements. The words "anticipate," "believe," "contemplate," "continue," "estimate," "expect," "intends," "may," "might," "plan," "possible," "potential," "predict," "project," "should," "will," "would," and similar expressions may identify forward-looking statements, but the absence of these words does not mean that a statement is not forward-looking. These forward-looking statements represent our views as of the date of this press release and involve a number of judgments, risks and uncertainties. We anticipate that subsequent events and developments will cause our views to change. We undertake no obligation to update forward-looking statements to reflect events or circumstances after the date they were made, whether as a result of new information, future events or otherwise, except as may be required under applicable securities laws. Accordingly, forward-looking statements should not be relied upon as representing our views as of any subsequent date. As a result of a number of known and unknown risks and uncertainties, our actual results or performance may be materially different from those expressed or implied by these forward-looking statements. Some factors that could cause actual results to differ include our ability to demonstrate the efficacy and safety of our drug candidates; the clinical results for our drug candidates, which may not support further development or marketing approval; actions of regulatory agencies, which may affect the initiation, timing and progress of clinical trials and marketing approval; our ability to achieve commercial success for our drug candidates, if approved; our limited operating history and our ability to obtain additional funding for operations and to complete the development and commercialization of our drug candidates; and other risks and uncertainties set forth in "Risk Factors" in our most recent Annual Report on Form 10-K and any subsequent Quarterly Reports on Form 10-Q. In addition, statements that "we believe" and similar statements reflect our beliefs and opinions on the relevant subject. These statements are based upon information available to us as of the date of this press release, and while we believe such information forms a reasonable basis for such statements, such information may be limited or incomplete, and our statements should not be read to indicate that we have conducted an exhaustive inquiry into, or review of, all potentially available relevant information. These statements are inherently uncertain and you are cautioned not to rely unduly upon these statements. All information in this press release is as of the date of this press release. The information contained in any website referenced herein is not, and shall not be deemed to be, part of or incorporated into this press release.