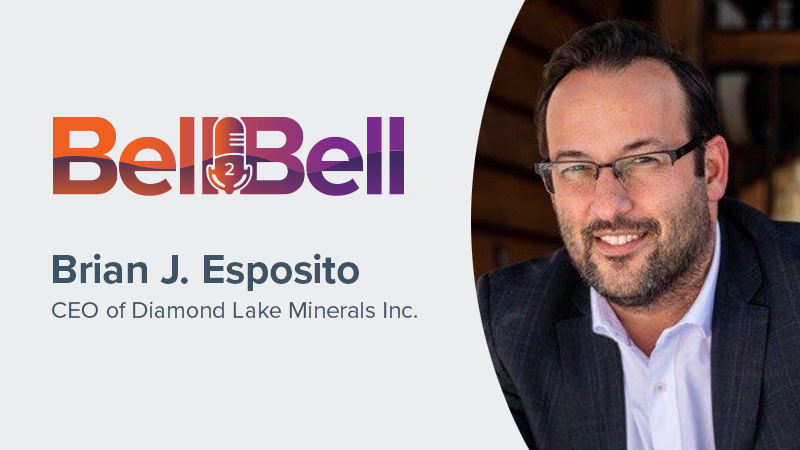 IBN, a multifaceted communications organization engaged in connecting public companies to the investment community, is pleased to announce the release of the latest episode of The Bell2Bell Podcast as part of its sustained effort to provide specialized content distribution via widespread syndication channels.
The Bell2Bell Podcast delivers informative updates and exclusive interviews with executives operating in fast-moving industries. Bell2Bell's latest podcast features Brian J. Esposito, CEO of Diamond Lake Minerals Inc. (OTC: DLMI), a multi-strategy operating company offering traditional investors an entry point to the future of digital securities.
To begin the interview, Esposito discussed DLMI's business model and operating markets.
"The best way I can describe what we're building here at DLMI is an old-school General Electric/Berkshire Hathaway approach where we're going to have an umbrella holding company of all of these wonderful subsidiaries across multiple industries," Esposito said. "Think of us as an industry-agnostic holding umbrella company with wonderful entities that we build, start or acquire. The idea is strong, consistent earnings; shareholder value; and sharing those earnings with our shareholders through strong, consistent dividend distribution. I'm a strong believer that this is what's needed in the market… I'm proud to be here as the CEO since late August. I'm proud of the accomplishments that we've achieved over the past few months, and the global support that we have is quite exceptional."
Among those accomplishments since adding Esposito as CEO, the company has successfully assembled an advisory board filled with leaders in various industries, which he introduced during the interview.
"Anthony Scaramucci is a media icon and founder and managing partner of Skybridge Capital, as well as a dear friend and supporter. Founder of E! TV Larry Namer is also a longtime friend, and having his tremendous support is extremely humbling. Andrew Fromm is one of the top music catalog brokers in the world… We also have real estate mogul and Skinwalker Ranch owner Brandon Fugal… His name is on almost every building in Salt Lake City, where DLMI is headquartered. Michael Malik Sr. brought gaming to the Native American reservations, setting it up with regulatory and getting those licenses approved. Raul Leal was the CEO of Virgin Hotels for over 10 years and is now the CEO of SH Hotels & Resorts. Agnes Budzyn was the CEO of Bluedge Ventures and COO of BlackRock for 10 years."
"The reason why a lot of these amazing people are part of this team is because we are taking the business models of the traditional world and combining that with what I know is the future of securities – digital assets… I believe DLMI is the hybrid missing piece to get generational wealth that's on the sidelines… involved in that space through a regulated environment with security tokens… and the familiarity of buying a stock such as DLMI to get involved with the digital asset world."
Join IBN's Stuart Smith and Brian J. Esposito, CEO of Diamond Lake Minerals Inc. (OTC: DLMI), to learn more about how the company's leadership team, including President Michael Reynolds and Senior Transaction and Investment Executive Jon Karas, is working to drive growth, earnings and shareholder value in the months to come.
To hear the episode and subscribe for future podcasts, visit https://podcast.bell2bell.com.
The latest installment of The Bell2Bell Podcast continues to reinforce IBN's commitment to the expansion of its robust network of brands, client partners, followers, and the growing IBN Podcast Series. For more than 17 years, IBN has leveraged this commitment to provide unparalleled distribution and corporate messaging solutions to 500+ public and private companies.
To learn more about IBN's achievements and milestones via a visual timeline, visit: https://IBN.fm/TimeLine
About Diamond Lake Minerals Inc.
Founded in Utah in 1954, Diamond Lake Minerals Inc. is a multi-strategy operating company that specializes in the development and support of digital assets and SEC-registered security tokens. Its goal is to responsibly innovate and develop valuable traditional businesses and successfully combine them with the future of money and digital assets. The company's mission is to bring back to the public markets timeless business principles that are focused on healthy sustainable growth and strong earnings that generate yields combined in a modern digital world creating value for its stakeholders. DLMI is positioning itself as an industry-agnostic leader in the digital asset and security token space.
For more information, visit the company's website at www.DiamondLakeMinerals.com
About IBN
IBN consists of financial brands introduced to the investment public over the course of 17+ years. With IBN, we have amassed a collective audience of millions of social media followers. These distinctive investor brands aim to fulfill the unique needs of a growing base of client-partners. IBN will continue to expand our branded network of highly influential properties, leveraging the knowledge and energy of specialized teams of experts to serve our increasingly diversified list of clients.
Through our Dynamic Brand Portfolio (DBP), IBN provides: (1) access to a network of wire solutions via InvestorWire to reach all target markets, industries and demographics in the most effective manner possible; (2) article and editorial syndication to 5,000+ news outlets; (3) Press Release Enhancement to ensure maximum impact; (4) full-scale distribution to a growing social media audience; (5) a full array of corporate communications solutions; and (6) total news coverage solutions.
For more information, please visit https://www.InvestorBrandNetwork.com
Please see full terms of use and disclaimers on the InvestorBrandNetwork website applicable to all content provided by IBN, wherever published or re-published: http://IBN.fm/Disclaimer
Forward-Looking Statements
This release contains forward-looking statements within the meaning of Section 27A of the Securities Act of 1933, as amended and Section 21E of the Securities Exchange Act of 1934, as amended. All forward-looking statements are inherently uncertain as they are based on current expectations and assumptions concerning future events or future performance of the company. Readers are cautioned not to place undue reliance on these forward-looking statements, which are only predictions and speak only as of the date hereof. In evaluating such statements, prospective investors should review carefully various risks and uncertainties identified in this release and matters set in the company's SEC filings. These risks and uncertainties could cause the company's actual results to differ materially from those indicated in the forward-looking statements.