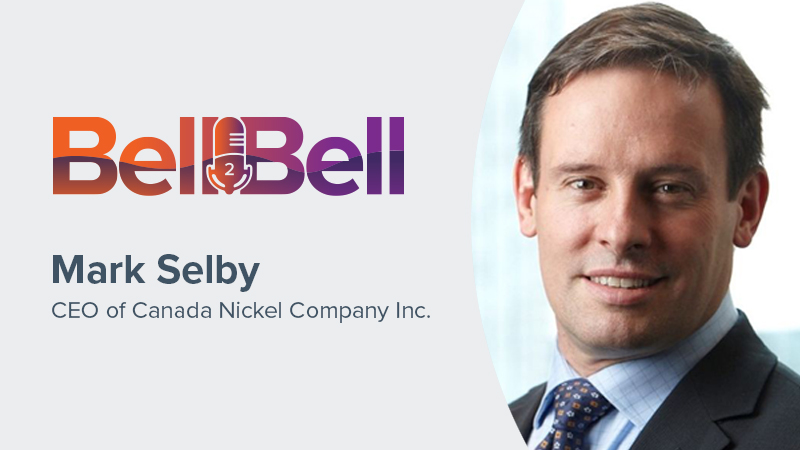 IBN, a multifaceted communications organization engaged in connecting public companies to the investment community, is pleased to announce the release of the latest episode of The Bell2Bell Podcast as part of its sustained effort to provide specialized content distribution via widespread syndication channels.
The Bell2Bell Podcast delivers informative updates and exclusive interviews with executives operating in fast-moving industries. Bell2Bell's latest podcast features the return of Mark Selby, CEO and Director of Canada Nickel Company Inc. (TSX.V: CNC) (OTCQX: CNIKF), a company working to advance the next generation of high quality nickel sulphide projects to feed the high growth electric vehicle and stainless steel markets.
To begin the interview, Selby discussed the company's recent news release announcing the positive Bankable Feasibility Study for its Crawford Nickel Sulphide Project.
"It's a major milestone for the company – $2.5 billion after-tax NPV, 17% IRR. When you include the additional carbon capture and storage tax credits that we think we'll be able to get, that nudges the IRR up to 18%. This is for a project that's going to be a 40-year mine life," Selby said. "We're the second-largest nickel reserve in the world, the second-largest nickel resource in the world and, if we were fully ramped-up today, we'd be the third-largest nickel-sulphide operation globally."
"This is in a nickel market where more than 100% of the supply has effectively come from Chinese-controlled sources in Indonesia, most of which with a massive carbon footprint. Because of the host rock we have, in addition to producing all that nickel, as well as cobalt, palladium, platinum, iron and chrome, we will also have the ability to store 1.5 million tons of CO2, which would also make us one of the largest carbon storage facilities in the world. If you look at what our overall effective carbon footprint would be, it would be negative 30 tons of CO2. So, in today's world where everyone is looking for low-carbon alternatives, we're a negative carbon alternative in terms of nickel production."
Selby then turned his attention toward recent updates relating to Canada Nickel Company's other projects.
"Crawford is just the first project of what we think is an entire nickel district in Timmins, which is a very established mining camp with all the major infrastructure in place. We assembled a package of 20 different properties, each of which we believe has an ultramafic deposit. We've successfully tested nine of them; three of them have a larger target footprint than what we have with Crawford. We've been very happy with those results."
Join IBN's Stuart Smith and Mark Selby, CEO and Director of Canada Nickel Company Inc. (TSX.V: CNC) (OTCQX: CNIKF), to learn more about the company's recent milestones relating to the Crawford project and the development of its IPT Carbonation process, as well as its goals for the balance of 2023 and beyond.
To hear the episode and subscribe for future podcasts, visit https://podcast.bell2bell.com.
The latest installment of The Bell2Bell Podcast continues to reinforce IBN's commitment to the expansion of its robust network of brands, client partners, followers and the growing IBN Podcast Series. For more than 17 years, IBN has leveraged this commitment to provide unparalleled distribution and corporate messaging solutions to 500+ public and private companies.
To learn more about IBN's achievements and milestones via a visual timeline, visit: https://IBN.fm/TimeLine
About Canada Nickel
Canada Nickel Company Inc. is advancing the next generation of nickel-sulphide projects to deliver nickel required to feed the high growth electric vehicle and stainless steel markets. Canada Nickel Company has applied in multiple jurisdictions to trademark the terms NetZero Nickel™, NetZero Cobalt™ and NetZero Iron™ and is pursuing the development of processes to allow the production of net zero carbon nickel, cobalt and iron products. Canada Nickel provides investors with leverage to nickel in low political risk jurisdictions. Canada Nickel is currently anchored by its 100% owned flagship Crawford Nickel-Cobalt Sulphide Project in the heart of the prolific Timmins-Cochrane mining camp. For more information, visit the company's website at www.CanadaNickel.com
About IBN
IBN consists of financial brands introduced to the investment public over the course of 17+ years. With IBN, we have amassed a collective audience of millions of social media followers. These distinctive investor brands aim to fulfill the unique needs of a growing base of client-partners. IBN will continue to expand our branded network of highly influential properties, leveraging the knowledge and energy of specialized teams of experts to serve our increasingly diversified list of clients.
Through our Dynamic Brand Portfolio (DBP), IBN provides: (1) access to a network of wire solutions via InvestorWire to reach all target markets, industries and demographics in the most effective manner possible; (2) article and editorial syndication to 5,000+ news outlets; (3) Press Release Enhancement to ensure maximum impact; (4) full-scale distribution to a growing social media audience; (5) a full array of corporate communications solutions; and (6) total news coverage solutions.
For more information, please visit https://www.InvestorBrandNetwork.com
Please see full terms of use and disclaimers on the InvestorBrandNetwork website applicable to all content provided by IBN, wherever published or re-published: http://IBN.fm/Disclaimer
Forward-Looking Statements
This release contains forward-looking statements within the meaning of Section 27A of the Securities Act of 1933, as amended and Section 21E of the Securities Exchange Act of 1934, as amended. All forward-looking statements are inherently uncertain as they are based on current expectations and assumptions concerning future events or future performance of the company. Readers are cautioned not to place undue reliance on these forward-looking statements, which are only predictions and speak only as of the date hereof. In evaluating such statements, prospective investors should review carefully various risks and uncertainties identified in this release and matters set in the company's SEC filings. These risks and uncertainties could cause the company's actual results to differ materially from those indicated in the forward-looking statements.