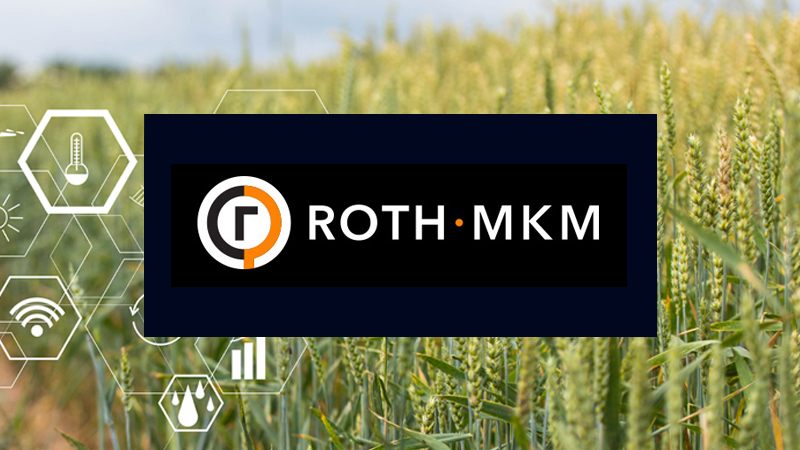 IBN ("InvestorBrandNetwork"), a leading corporate communications firm and content distributor, is delighted to announce its collaboration with ROTH MKM ("ROTH") for the upcoming 3rd Annual AgTech Answers Conference. The conference is scheduled to take place at The Yale Club, located at 50 Vanderbilt Ave, New York, NY, on November 14, 2023.
This highly anticipated conference will provide exceptional networking opportunities for senior leadership from analyst-selected companies and seasoned institutional investors. Attendees will have the chance to deepen their insights into the ever-evolving landscape of the agriculture technology (AgTech) industry, explore potential synergies and foster innovative partnerships. The event will serve as a prime platform for meaningful discussions and the establishment of long-lasting professional relationships within the AgTech sector and related fields.
IBN, as the official media sponsor, will leverage its state-of-the-art corporate communication solutions to enhance the visibility of the conference. With its extensive network and a wide array of premium digital channels, IBN will drive increased viewership. As an integral part of IBN's robust Dynamic Brand Portfolio (DBP), InvestorWire will play a pivotal role in disseminating content across a wide range of global news outlets.
In addition to the invaluable one-on-one and small-group private meetings between institutional investors and senior management, as well as enlightening panel discussions, this one-day event will introduce Lunch Round Table Discussions that feature industry specialists. During these sessions, industry experts will share their assessments, insights and expectations for a variety of AgTech sub-sectors.
Agriculture and food supply chains are among the most vulnerable sectors in today's world as they face potential disruptions due to changing weather patterns, diminishing soil quality, limited water resources and increasing resistance to pests. Simultaneously, global population figures, nutritional demands and food security needs are on the rise. ROTH's unparalleled focus on AgTech and associated sectors exemplifies its forward-thinking approach to support innovative ventures that address the pressing challenges of our time through responsible business opportunities.
The AgTech Answers Conference facilitates connections between investors seeking under-the-radar opportunities and companies offering profitable and sustainable avenues for capital deployment.
For more information about this invitation-only conference, please visit: www.Roth.com/AgtechAnswers
About IBN
IBN consists of financial brands introduced to the investment public over the course of 17+ years. With IBN, we have amassed a collective audience of millions of social media followers. These distinctive investor brands aim to fulfill the unique needs of a growing base of client-partners. IBN will continue to expand our branded network of highly influential properties, leveraging the knowledge and energy of specialized teams of experts to serve our increasingly diversified list of clients.
Through our Dynamic Brand Portfolio (DBP), IBN provides: (1) access to a network of wire solutions via InvestorWire to reach all target markets, industries and demographics in the most effective manner possible; (2) article and editorial syndication to 5,000+ news outlets; (3) Press Release Enhancement to ensure maximum impact; (4) full-scale distribution to a growing social media audience; (5) a full array of corporate communications solutions; and (6) total news coverage solutions.
For more information, please visit https://www.InvestorBrandNetwork.com
Please see full terms of use and disclaimers on the InvestorBrandNetwork website applicable to all content provided by IBN, wherever published or re-published: https://www.InvestorBrandNetwork.com