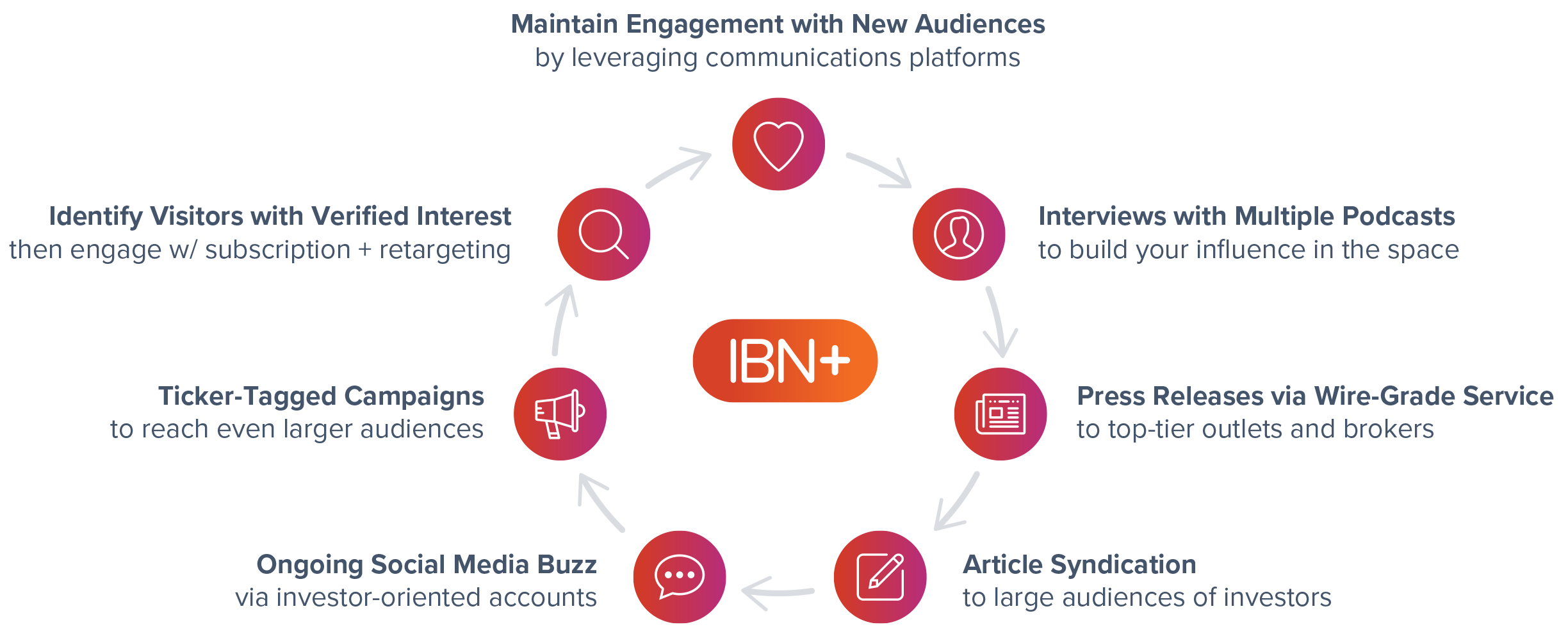 IBN's platform of synergistic brands, social media followers and syndicated news outlets are tailored for Reg A offerings. Delivering maximum visibility and recognition, IBN's Reg A solutions introduce, educate and reinforce the positive attributes and potential of your company to the public during the capital raise. Beyond the capital infusion, Reg A public offerings can also increase company brand awareness and recognition.
Strong Support for Any Existing Investor Engagement Strategy
Ongoing Content Creation for Companies Raising Capital through All Types of Exempt Offerings
Many Years of Experience Assisting Companies in All Phases from Reservations to Going Public
Understanding of the Markets Surrounding Capital Raising and How to Reach Targeted Investors
Referral Relationships to Accelerate Success via Introductions to IBN's Network
Big Network, Big Reach
Our platform of synergistic brands, social media followers and syndicated news outlets deliver maximum impact, visibility and recognition for each client partner.
Top-tier outlets include Apple News, Bloomberg, Benzinga, International Business Times, and MarketWatch – among thousands of other distribution partners. We also host podcasts, provide video content to OTT networks such as Amazon Fire and ROKU, and so much more.
A Few Examples of Our 5000+ Syndication Partners
---
IBN Highlights
15+
years serving public and private companies
2+ million
likes, followers and subscribers
5,000+
syndication partners
17
focused newsrooms targeting specific sectors
500,000+
monthly visits throughout IBN websites
---
Content is Still King

(but consistency is key to winning the crown)
When building your brand, so many factors must be considered. It's not just factual content, but the attractiveness of the message, method in which its delivered, and the consistency of delivery.
If you want your corporate message to resonate with investors, content alone won't do it. Consistency is the key to having your message recognized and remembered. Since 2006, IBN and its investor-oriented brands have been perfecting the art of consistency while pushing value propositions just like yours to millions of potential investors over and over again.
Keep your company at the forefront of any investor audience interested in your sector.
Connect with the InvestorBrandNetwork
Thank you for your time today.
If you'd like to inquire about our solutions, complete the form below. If you would like to schedule a demo or call us, please refer to the section below the form.