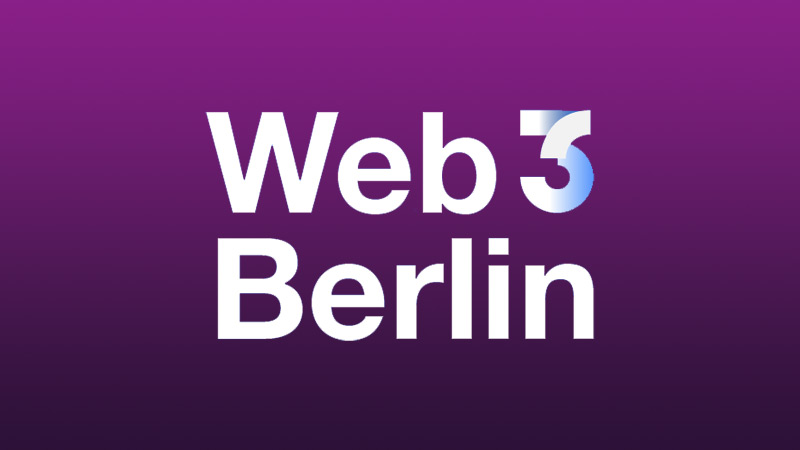 IBN ("InvestorBrandNetwork"), a multifaceted communications organization with 50+ brands is pleased to announce that Web3MediaWire ("W3MW")  has been chosen by Web3 Berlin, an event organizer specializing in conferences for the Web3 community, to serve as the official newswire and media sponsor for Web3 Berlin. The event will be held on June 10–11, 2023, at the iconic Estrel Congress Center ("ECC") in Berlin.
Web3 Berlin is the premier annual conference for the Web3 community that cultivates a unique and dynamic atmosphere and brings together the brightest minds across the ecosystem, to share practical wisdom and deep insights; discuss the breakout trends in the industry and explore potential synergies for future collaborations and shape future trajectories.
As the biggest NFT, crypto and Web3 conference in Europe, the conference expects over 7,000 delegates to in attendance and aims to create a memorable experience with a focus on inclusivity, networking, education and onboarding to Web3 spaces.
Delegates will be immersed in an exciting atmosphere primed to further explore cutting-edge trends, push engagement with industry veterans and professional networks and deepen connections with renowned experts.
The conference agenda is jam-packed with insightful presentations, lively panel discussions, eye-opening workshops, enthralling live transmissions and a variety of other interactive formats. Reputed thought leaders will share their unique perspectives with a deeply enthusiastic and knowledgeable audience while delving deeper into the forces that are guiding the revolutionary potential of the space to become a reality.
During the two-day conference, invited speakers will include (among 100+ other prominent experts):
The conference shall play host to several captivating side events including Hackathon with ReBaked, where Web3 developers and crypto enthusiasts can compete and collaborate to push the envelope of this fast-emerging ecosystem and earn rewarding prizes; a world-class exhibition hall in which delegates can interact with cutting-edge technologies and strengthen bonds with a variety of industry players; Crypto Trading Workshops with the one-and-only Adrian Zduńczyk, CEO of The Birb Nest; the NFT Gallery and Web3 Gaming Corner where delegates can truly sample the transformative power of the Web3 experience while having an exciting opportunity to compete, network and enjoy friendly matches.
Other events will include the Hive Community Meeting; KuCoin Community Meeting; Flamingo Community Meeting; Polish Community Meeting; workshops with MetaWealth and Ease as well as a special event on "Women in Web3."
Delegates will mingle with visionary entrepreneurs, seasoned professionals, Web3 enthusiasts, policy leaders and investors at dedicated high-powered networking zones; take in master chef catering at one of the VIP-only zones; relish the inviting gourmet drink and food stations and take in the unique cooking/fashion show and other social events.
On June 10, 2023, "Midnight Talks" NFT holders can let down their hair, relax and have fun at the memorable Web3 Berlin Official After Party.
To top it off, the upcoming conference shall also host a special treat, the exclusive BAYC Yacht Party – Europe Tour (Lisbon-Berlin-Belgrade) on June 11, 2023, which promises to be a truly enchanting experience on Berlin's majestic waterways.
As the event's official newswire and media sponsor, Web3MediaWire, will combine traditional wire-grade dissemination, article and editorial syndication, enhanced press release services and a complete news coverage solution to amplify widespread interest across target markets, including Web3 experts, crypto enthusiasts, seasoned investors, keen consumers, journalists, and the general public. By leveraging its unique communications capabilities, W3MW delivers unparalleled visibility, recognition, and brand awareness for its clients.
Jonathan Keim, communications director for IBN, said: "Web3 Berlin is Europe's most awaited conference on all things NFT, crypto and Web3. We are grateful to be working alongside Mateusz and his wonderful and highly energetic team at Web3 Berlin as these technologies become increasingly important to a host of industries. W3MW and IBN will leverage an extensive network of thousands of downstream publishers to drive visibility among target audiences in Europe and internationally."
With the breakneck speed of development across the Web3 ecosystem, businesses and professionals must stay abreast of changing technologies and the latest developments; institutions need to be equally aware of the changing landscape and how it impacts their traditional domains of expertise, while enthusiasts and the general public must have the priceless opportunity to engage first-hand with experts and visionaries driving the trajectory of the space. The Web3 Berlin conference is designed to increase business productivity, accelerate rapport-building, enable deeper personal and professional networks, and steer the future of the ecosystem in the coming decade.
About Web3MediaWire
Web3MediaWire is a specialized communications platform with a focus on the next generation of internet technologies. One of 50+ brands within the InvestorBrandNetwork ("IBN"), Web3MediaWire provides: (1) access to a network of wire solutions via InvestorWire to reach all target markets, industries and demographics in the most effective manner possible; (2) article and editorial syndication to 5,000+ news outlets; (3) enhanced press release solutions to ensure maximum impact; (4) social media distribution via IBN to millions of social media followers; and (5) a full array of corporate communications solutions. Analysts and investors alike have identified decentralization, blockchain and tokenization as areas of innovation serving as the foundation for the newest iteration of global connectivity. Web3MediaWire is committed to putting the companies advancing these developments under the microscope by aggregating and distributing important news and information on Web3 opportunities. By cutting through the overload of information in today's market, Web3MediaWire brings its clients unparalleled visibility, recognition and brand awareness. Web3MediaWire is where news, content and information converge.
To receive SMS text alerts from Web3MediaWire, text "Web3" to 844-397-5787 (U.S. Mobile Phones Only)
For more information, please visit https://www.Web3MediaWire.com
Please see full terms of use and disclaimers on the Web3MediaWire website applicable to all content provided by Web3MediaWire, wherever published or re-published: https://Web3MediaWire.com/Disclaimer