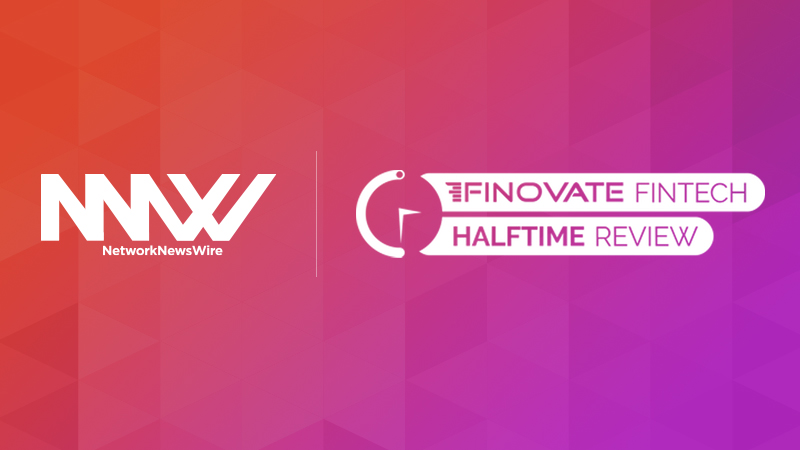 NetworkNewsWire ("NNW"), a multifaceted financial news and publishing company part of the InvestorBrandNetwork ("IBN"), today announces it will serve as the official newswire for the upcoming Finovate Fintech Halftime Review, taking place online June 22-26. Additionally, IBN will be an official media sponsor of the conference.
NNW and IBN will work together to amplify the event's overall visibility through nationally distributed articles via 5,000+ strategic syndication partners, social media distribution through the companies' vast networks, and an enhanced listing on their events page. Additionally, the NetworkNewsWire team will use their extensive database of journalists to further spread awareness of the event.
"The Finovate Group continues to provide exemplary conference lineups every year, and it is a pleasure to be a part of such a professional, well-curated event," said Jonathan Keim, director of communications for InvestorBrandNetwork. "Our team has covered all Finovate events since our first collaboration in 2008, and we're pleased to return as a sponsor for this event. We are actively utilizing our diverse array of corporate communications solutions to heighten awareness of the Finovate Fintech Halftime Review."
"The InvestorBrandNetwork team provides valuable communication tools and is consistent in its delivery of exceptional service," said Vice President of Finovate Greg Palmer. "We look forward to yet another successful collaboration as well as many more in the years to come."
The Finovate Fintech Halftime Review will review significant milestones that have occurred in the fintech industry as it reflects back on the first half of 2020. A week of webinars, videos, whitepapers, eMagazines and more, the event provides a specialized focus on latest trends in payment transformation, fraud & cyber-crime prevention technology, bankingtech, and wealthtech. This customizable digital experience is conveniently accessible remotely for members of the global fintech community as they shelter in place or work from home offices.
NetworkNewsWire is one of more than 40 brands housed under the umbrella of the InvestorBrandNetwork. For more than 14 years, InvestorBrandNetwork has been shining a powerful spotlight on companies of all specialties, valuations and sizes, putting them and their stories in front of targeted audiences and investors to build brand awareness.
For more information about Finovate Fintech Halftime Review, including registration information and details on how to become a demoing company, visit http://nnw.fm/DXeq4.
About InvestorBrandNetwork
The InvestorBrandNetwork ("IBN") consists of trusted financial brands introduced to the investment public over the course of 14+ years. With IBN, we have amassed a collective audience of millions of social media followers. These distinctive investor brands aim to fulfill the unique needs of a growing base of Client Partners. IBN will continue to expand our branded network of highly influential properties, leveraging the knowledge and energy of specialized teams of experts to serve our increasingly diversified list of clients.
Through NetworkNewsWire ("NNW") and its affiliate brands, IBN provides: (1) access to a network of wire solutions via NetworkWire to reach all target markets, industries and demographics in the most effective manner possible; (2) article and editorial syndication to 5,000+ news outlets; (3) enhanced press release solutions to ensure maximum impact; (4) full-scale distribution to a growing social media audience; (5) a full array of corporate communications solutions; and (6) a total news coverage solution.
For more information please visit https://www.InvestorBrandNetwork.com Please see full terms of use and disclaimers on the InvestorBrandNetwork website applicable to all content provided by IBN, wherever published or re-published: http://IBN.fm/Disclaimer