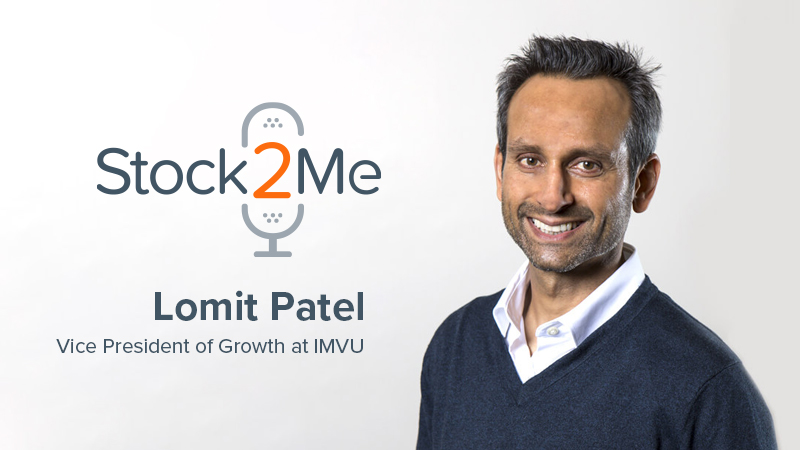 InvestorBrandNetwork ("IBN"), a multifaceted communications organization engaged in connecting public companies to the investment community, is pleased to announce the release of the latest episode of The Stock2Me Podcast as part of its sustained effort to provide specialized content distribution via widespread syndication channels.
The Stock2Me Podcast features a fascinating array of companies and individuals, many of whom are actively revolutionizing age-old business practices within their respective markets. Stock2Me's latest podcast features Lomit Patel, expert in AI and early-stage business growth. Patel is Vice President of Growth at IMVU. He previously managed growth at startups including Roku; TrustedID, which was acquired by Equifax; Texture, which was acquired by Apple; and EarthLink. Patel is a public speaker, author and advisor, and he is recognized as a Mobile Hero by Liftoff. His new bestselling book "Lean AI: How Innovative Startups Use Artificial Intelligence to Grow" is part of Eric Ries' "The Lean Startup" series, now available on Amazon.
During the interview, Patel noted that AI and automation, advantages once limited to large corporations, are now available tools for startups and smaller companies.
"Entrepreneurs, founders and businesses which are looking to grow better, faster and smarter will be able to leverage AI and automation, which is going to be the next wave of helping businesses to grow more successfully," he said. "People in this day and age have so much more access to their customer data that they never had previously. One of the benefits of that is the ability to surface all these customer insights. With lean AI, the playing field is definitely more evened up now. You'll be able to get very granular, so you can target the right types of users most likely to purchase your product or service."
AI also can be part of the solution that helps businesses overcome the impacts of the COVID-19 pandemic, he added.
"This is an opportunity for companies to take a step back and ask themselves how can we get more done with less," Patel said. "One trend is the whole area of automation. AI can automate a lot of processes and tasks that generally have required a lot more human or manual intervention. An example is on the marketing team, where companies are able to automate the managing of different advertising campaigns, to develop creatives that go into the campaigns and to automate the customer support and services to handle inquiries from the campaigns."
Patel thinks, going into 2021, that businesses will continue to utilize and build upon the lessons they have learned during the difficult business climate of the past 12 months.
"Going into 2021 and beyond, more companies will adopt automation and figure out how to grow their businesses and be more efficient with less human dependency," he said. "In 2020, people have been forced to adopt new habits, many of them around dependence on digital devices for entertainment, news and shopping. A lot of businesses have had to learn fast, like traditional retail, which had to make e-commerce a prominent component of their strategy. I think that trend is going to continue."
Join InvestorBrandNetwork's Stuart Smith and Lomit Patel, expert in AI and early-stage business growth, in exploring the advantages of AI and automation for startups and smaller companies, particularly in the wake of the COVID-19 pandemic.
To hear the whole episode and subscribe for future episodes, visit: https://podcast.stock2me.com
The latest installment of The Stock2Me Podcast continues to reinforce InvestorBrandNetwork's commitment to the expansion of its robust network of brands, client partners, followers and the growing IBN Podcast Series. For more than 15 years, IBN has leveraged this commitment to provide unparalleled distribution and corporate messaging solutions to 500+ public and private companies.
To learn more about IBN's achievements and milestones via a visual timeline, visit: https://IBN.fm/TimeLine