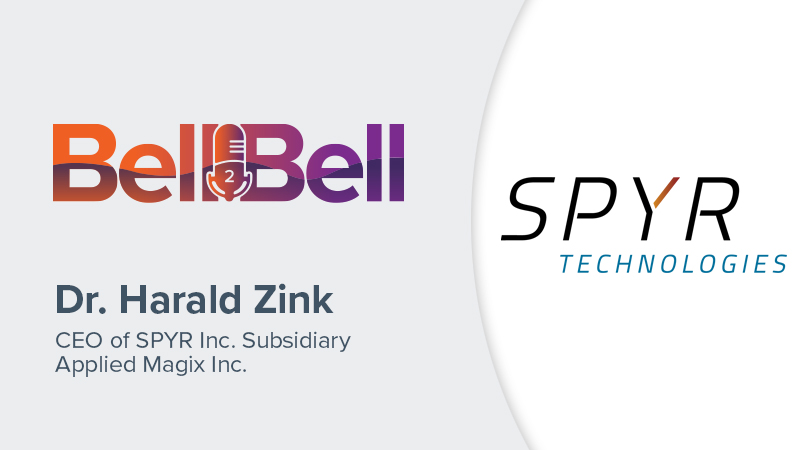 IBN (InvestorBrandNetwork), a multifaceted communications organization engaged in connecting public companies to the investment community, is pleased to announce the release of the latest episode of The Bell2Bell Podcast as part of its sustained effort to provide specialized content distribution via widespread syndication channels.
The Bell2Bell Podcast delivers informative updates and exclusive interviews with executives operating in fast-moving industries. Bell2Bell's latest podcast features Dr. Harald Zink, CEO, Founder and Chief Product Architect of SPYR Inc. (OTCQB: SPYR) subsidiary Applied Magix Inc., a developer and reseller of Apple® ecosystem compatible products.
Throughout the interview, Zink discussed Applied Magix's business model, management team and operational goals.
"Applied Magix is an accessories company exclusively catering to Apple consumers – people who have iPhones and Macs. We focus primarily on the smart home market, for which Apple has provided an environment called HomeKit, as well as the CarPlay market, which is Apple's name for its smart car-supporting accessories," Zink said. "Aside from the fact that everybody here at Applied Magix are huge Apple nerds, we found that, looking at the market, the Apple consumer is not only more affluent, they're also more loyal and more willing to essentially work with devices, services and companies that treat them well and provide premium and quality products. That's what we're aiming to do."
"We started out as an idea between myself and my business partner, COO of Applied Magix Mr. Kelly Clark. We wanted to make the kind of products that we had not been able to find for ourselves in the market," he continued. "I have a pretty extensive engineering and technology background; I have been working in that field since I was in my teens, basically. … I have a long history of association with supporting Apple consumers and Apple-branded products, as well as relationships with people working at Apple. We put that together, and our paths crossed with what became our parent company, SPYR. I've known Mr. Matula, the current CEO of SPYR, for a while, and we came to talking about this. He liked our business model and our business ideas. He suggested pitching it to the [SPYR] board, and it was, apparently, well received, since here we are now."
"Our basic business plan for the first year of operations was to establish a framework and a foundation for what we would need moving forward. That's what we've done in 2021," Zink added. "We had to set up a whole bunch of different infrastructures – call centers, fulfillment centers, a subsidiary office in Hong Kong since our manufacturers and some of our developers are located in both Hong Kong and Shenzhen. We also started development on a variety of products, some of which are now coming to the end of development, and we hope to be able to introduce them to a hungry and interested market in 2022. Since the beginning of 2022, we've been able to hit the ground running with a lot of other things that we have planned. We're executing on our phase 2, which is product, product launches and revenue."
Join IBN's Stuart Smith and Dr. Harald Zink, CEO, Founder and Chief Product Architect of SPYR Inc. subsidiary Applied Magix Inc., to learn more about the company's flagship product offering, MagixDrive, and its plans to launch additional products in the months to come.
To hear the episode and subscribe for future podcasts, visit https://podcast.bell2bell.com
The latest installment of The Bell2Bell Podcast continues to reinforce IBN's commitment to the expansion of its robust network of brands, client partners, followers and the growing IBN Podcast Series. For more than 15 years, IBN has leveraged this commitment to provide unparalleled distribution and corporate messaging solutions to 500+ public and private companies.
To learn more about IBN's achievements and milestones via a visual timeline, visit: https://IBN.fm/TimeLine
About SPYR Inc.
SPYR is a technology company which, through its subsidiary, Applied Magix Inc., develops and resells Apple® ecosystem compatible products with an emphasis on the growing multibillion-dollar IoT smart home and connected car markets. SPYR continues to identify and target acquisitions that will grow its footprint in the industry and expand the products it offers consumers, including companies developing artificial intelligence ("AI") and smart-technology products. Investors can learn more about SPYR and Applied Magix at https://ir.spyr.com.