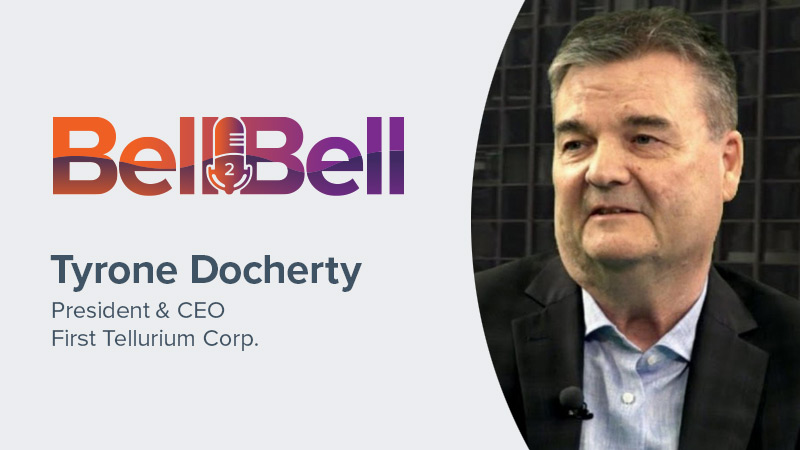 IBN a multifaceted communications organization engaged in connecting public companies to the investment community, is pleased to announce the release of the latest episode of The Bell2Bell Podcast as part of its sustained effort to provide specialized content distribution via widespread syndication channels.
The Bell2Bell Podcast delivers informative updates and exclusive interviews with executives operating in fast-moving industries. Bell2Bell's latest podcast features Tyrone Docherty, President & CEO of First Tellurium Corp. (CSE: FTEL) (OTCQB: FSTTF), a company committed to exploring for and providing essential and critical metals, including tellurium, gold, silver, copper and tungsten, for North American markets.
To begin the interview, Docherty provided an introduction to the company's business model and operating markets.
"First Tellurium has a wonderful, high-grade gold and silver property in Canada, but it comes with this unique mineral, Tellurium, which is listed by both the United States and Canadian governments as critical," said Docherty. "Tellurium has come into the fore over the last couple of decades, because it is used in solar panels by U.S. corporation First Solar, which uses a mixture of cadmium and tellurium, as opposed to different solar panels coming out of China. Tellurium is very important there, and it's a very rare metal."
"Another development within the last year-and-a-half is that the University of British Columbia has put a patent on a lithium-tellurium battery that is far better than a lithium-ion battery. This is interesting, because we're going to have dissimilar industries, such as solar panels and batteries, that could be in high demand for our tellurium. First Tellurium is, in fact, the only tellurium-focused junior in the world. There are a lot of companies looking for lithium and cobalt, but, when it comes to tellurium, we are the only company. I joke that we should call ourselves First & Only Tellurium. We're the people who have the tellurium, and the people who need it will be knocking on our door."
Docherty then discussed his professional background.
"I'm different from a lot of presidents and CEOs of junior companies in the fact that I don't run more than one company at a time… My previous company was called Quinto Mining… When I took over, it had a market cap of C$4 million, and I was lucky enough to sell it 11 years later for C$175 million. Instead of taking the cash, we took shares in the company that acquired us… and ended up owning around 20-21% of that company. They sold two-and-a-half years later for C$4.9 billion… I was basically retired then, in 2008… but when you get special projects like Deer Horn thrown in your lap, it was so spectacular that I had to put on the work boots again and talk about mining. The opportunity is very, very good indeed."
Join IBN's Stuart Smith and Tyrone Docherty, President & CEO of First Tellurium Corp. (CSE: FTEL) (OTCQB: FSTTF),to learn more about the company's leadership team, as well as its recent milestones and near-term goals.
To hear the episode and subscribe for future podcasts, visit https://podcast.bell2bell.com.
The latest installment of The Bell2Bell Podcast continues to reinforce IBN's commitment to the expansion of its robust network of brands, client partners, followers, and the growing IBN Podcast Series. For more than 17 years, IBN has leveraged this commitment to provide unparalleled distribution and corporate messaging solutions to 500+ public and private companies.
To learn more about IBN's achievements and milestones via a visual timeline, visit: https://IBN.fm/TimeLine
About First Tellurium Corp.
First Tellurium's unique business model is to generate revenue and value through mineral discovery, project development, project generation and cooperative access to untapped mineral regions in Indigenous territory with sustainable exploration.
Its Klondike tellurium-gold property in Colorado and polymetallic Deer Horn Project in British Columbia anchor a diversified search for metals, working in alliance with Indigenous peoples, NGOs, governments and leading metals buyers. This is the future of mineral exploration – generating revenue by exploring responsibly and leveraging diverse partnerships.
First Tellurium proudly adheres to, and supports, the principles and rights set out in the United Nations Declaration on the Rights of Indigenous Peoples and, in particular, the fundamental proposition of free, prior and informed consent.
For more information, visit the company's website at www.FirstTellurium.com
About IBN
IBN consists of financial brands introduced to the investment public over the course of 17+ years. With IBN, we have amassed a collective audience of millions of social media followers. These distinctive investor brands aim to fulfill the unique needs of a growing base of client-partners. IBN will continue to expand our branded network of highly influential properties, leveraging the knowledge and energy of specialized teams of experts to serve our increasingly diversified list of clients.
Through our Dynamic Brand Portfolio (DBP), IBN provides: (1) access to a network of wire solutions via InvestorWire to reach all target markets, industries and demographics in the most effective manner possible; (2) article and editorial syndication to 5,000+ news outlets; (3) Press Release Enhancement to ensure maximum impact; (4) full-scale distribution to a growing social media audience; (5) a full array of corporate communications solutions; and (6) total news coverage solutions.
For more information, please visit https://www.InvestorBrandNetwork.com
Please see full terms of use and disclaimers on the InvestorBrandNetwork website applicable to all content provided by IBN, wherever published or re-published: http://IBN.fm/Disclaimer
Forward-Looking Statements
This release contains forward-looking statements within the meaning of Section 27A of the Securities Act of 1933, as amended and Section 21E of the Securities Exchange Act of 1934, as amended. All forward-looking statements are inherently uncertain as they are based on current expectations and assumptions concerning future events or future performance of the company. Readers are cautioned not to place undue reliance on these forward-looking statements, which are only predictions and speak only as of the date hereof. In evaluating such statements, prospective investors should review carefully various risks and uncertainties identified in this release and matters set in the company's SEC filings. These risks and uncertainties could cause the company's actual results to differ materially from those indicated in the forward-looking statements.