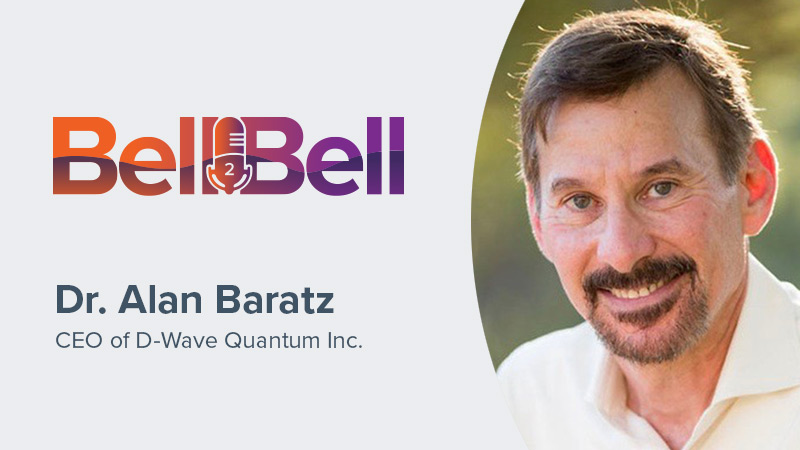 IBN, a multifaceted communications organization engaged in connecting public companies to the investment community, is pleased to announce the release of the latest episode of The Bell2Bell Podcast as part of its sustained effort to provide specialized content distribution via widespread syndication channels.
The Bell2Bell Podcast delivers informative updates and exclusive interviews with executives operating in fast-moving industries. Bell2Bell's latest podcast features the return of Dr. Alan Baratz, CEO of D-Wave Quantum Inc. (NYSE: QBTS), a leader in quantum computing systems, software and services.
To begin the interview, Baratz provided a refresher on the company's business model, including a brief introduction to quantum computing.
"D-Wave is a quantum computing systems, software and services company. We design, develop and make available quantum computers. We provide the software for programming those quantum computers. We provide the cloud services for accessing the quantum computers, and we provide professional services for helping our customers to build out their applications leveraging the quantum systems," Baratz said. "Quantum computers are computers that use quantum mechanical effects – things like superposition, entanglement or tunneling – to solve computationally hard problems faster or better than they can be solved using conventional computers."
"Quantum computers can be applied to solving both revolutionary applications and evolutionary applications. Revolutionary applications are things like designer drugs, where you could create a drug for you specifically addressing the issues that you have. Another example is global weather modeling. These are applications that will have a profound impact on society going forward. Evolutionary applications are things like employee scheduling, cargo container loading/unloading or fraud detection. These are problems that businesses are solving today, but the computational power that exists today is not sufficient to solve those problems optimally. Quantum computers will allow businesses to solve them better and/or faster than they're solving them today."
Baratz then discussed the factors that differentiate D-Wave from its competitors in the quantum computing space.
"D-Wave decided to start with a very different and unique approach to quantum computing when compared to everybody else in the quantum industry. Specifically, we decided to start with what is called 'annealing' quantum computing… We are the only company in the world that builds and makes available annealing quantum computers," Baratz explained. "Annealing systems are much easier to work with – easier to scale, much less sensitive to noise and errors and much easier to program than gate-model systems (the other approach to quantum computing). As a result of all of that, we are, today, the only truly commercial quantum computing company. We have customers like Mastercard, PayPal, GlaxoSmithKline, Johnson & Johnson and Volkswagen working on real business applications that leverage our quantum computing to benefit their business operations."
Join IBN's Stuart Smith and Dr. Alan Baratz, CEO of D-Wave Quantum Inc. (NYSE: QBTS), to learn more about the company's successful initiatives and projects and how they've impacted the quantum computing space as a whole.
To hear the episode and subscribe for future podcasts, visit https://podcast.bell2bell.com.
The latest installment of The Bell2Bell Podcast continues to reinforce IBN's commitment to the expansion of its robust network of brands, client partners, followers, and the growing IBN Podcast Series. For more than 17 years, IBN has leveraged this commitment to provide unparalleled distribution and corporate messaging solutions to 500+ public and private companies.
To learn more about IBN's achievements and milestones via a visual timeline, visit: https://IBN.fm/TimeLine
About D-Wave Quantum Inc.
D-Wave Quantum Inc. is a leader in the development and delivery of quantum computing systems, software and services. It is the world's first commercial supplier of quantum computers—and the only company building both annealing quantum computers and gate-model quantum computers. The company's mission is to unlock the power of quantum computing today to benefit business and society. It does this by delivering customer value with practical quantum applications for problems as diverse as logistics, artificial intelligence, materials sciences, drug discovery, scheduling, cybersecurity, fault detection and financial modeling. D-Wave's technology is being used by some of the world's most advanced organizations, including NEC Corporation, Volkswagen, DENSO, Lockheed Martin, Forschungszentrum Jülich, University of Southern California and Los Alamos National Laboratory.
For more information, visit the company's website at www.DWaveSys.com
About IBN
IBN consists of financial brands introduced to the investment public over the course of 17+ years. With IBN, we have amassed a collective audience of millions of social media followers. These distinctive investor brands aim to fulfill the unique needs of a growing base of client-partners. IBN will continue to expand our branded network of highly influential properties, leveraging the knowledge and energy of specialized teams of experts to serve our increasingly diversified list of clients.
Through our Dynamic Brand Portfolio (DBP), IBN provides: (1) access to a network of wire solutions via InvestorWire to reach all target markets, industries and demographics in the most effective manner possible; (2) article and editorial syndication to 5,000+ news outlets; (3) Press Release Enhancement to ensure maximum impact; (4) full-scale distribution to a growing social media audience; (5) a full array of corporate communications solutions; and (6) total news coverage solutions.
For more information, please visit https://www.InvestorBrandNetwork.com.
Please see full terms of use and disclaimers on the InvestorBrandNetwork website, applicable to all content provided by IBN wherever published or re-published: http://IBN.fm/Disclaimer
Forward-Looking Statements
This press release contains forward-looking statements within the meaning of the Private Securities Litigation Reform Act of 1995, which statements are based on beliefs and assumptions and on information currently available. In some cases, you can identify forward-looking statements by the following words: "may," "will," "could," "would," "should," "expect," "intend," "plan," "anticipate," "believe," "estimate," "predict," "project," "potential," "continue," "ongoing," or the negative of these terms or other comparable terminology, although not all forward-looking statements contain these words. These statements involve risks, uncertainties, and other factors that may cause actual results, levels of activity, performance, or achievements to be materially different from the information expressed or implied by these forward-looking statements. We caution you that these statements are based on a combination of facts and factors currently known by us and our projections of the future, which are subject to a number of risks. Forward-looking statements in this press release include, but are not limited to, the ability of quantum computers to solve revolutionary applications and the potential impact on society of quantum computers. We cannot assure you that the forward-looking statements in this press release will prove to be accurate. These forward-looking statements are subject to a number of risks and uncertainties, including, among others, various factors beyond management's control, including general economic conditions and other risks; customer acceptance of our products and services; and the uncertainties and factors set forth in the sections entitled "Risk Factors" and "Cautionary Note Regarding Forward-Looking Statements" in the registration statement on Form S-1 (SEC File No. 333-269732), filed by the Company with the SEC on February 13, 2023, as well as factors associated with companies, such as D-Wave, that are engaged in the business of quantum computing, including anticipated trends, growth rates, and challenges in those businesses and in the markets in which they operate; the outcome of any legal proceedings that may be instituted against us; risks related to the performance of our business and the timing of expected business or financial milestones; unanticipated technological or project development challenges, including with respect to the cost and or timing thereof; the performance of our products; the effects of competition on our business; the risk that we will need to raise additional capital to execute our business plan, which may not be available on acceptable terms or at all; the risk that we may never achieve or sustain profitability; the risk that we are unable to secure or protect our intellectual property; volatility in the price of our securities; the risk that our securities will not maintain the listing on the NYSE; changes in applicable laws and regulations; the effect of pandemics, geopolitical events, natural disasters, wars, or terrorist acts on our business or the economy in general; and the impact of inflation. Furthermore, if the forward-looking statements contained in this press release prove to be inaccurate, the inaccuracy may be material. In addition, you are cautioned that past performance may not be indicative of future results. In light of the significant uncertainties in these forward-looking statements, you should not place undue reliance on these statements in making an investment decision or regard these statements as a representation or warranty by any person we will achieve our objectives and plans in any specified time frame, or at all. The forward-looking statements in this press release represent our views as of the date of this press release. We anticipate that subsequent events and developments will cause our views to change. However, while we may elect to update these forward-looking statements at some point in the future, we have no current intention of doing so except to the extent required by applicable law. You should, therefore, not rely on these forward-looking statements as representing our views as of any date subsequent to the date of this press release.