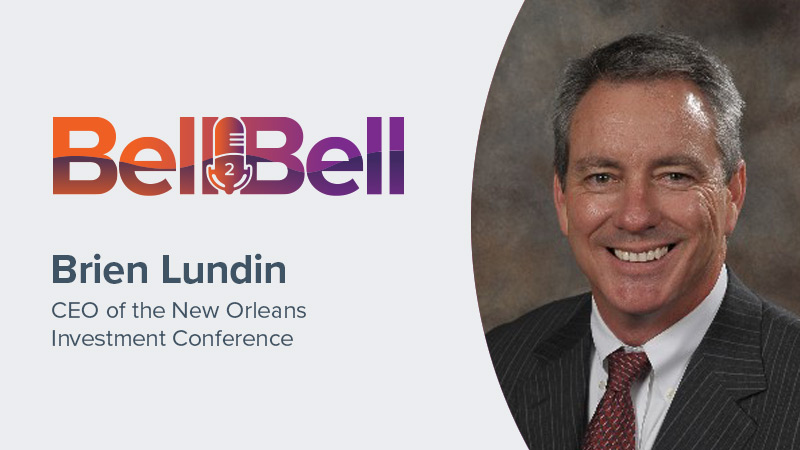 IBN, a multifaceted communications company engaged in connecting companies to the investment community, is pleased to announce the latest episode of The Bell2Bell Podcast as part of its sustained effort to provide specialized content distribution via widespread syndication channels.
The Bell2Bell Podcast delivers informative updates and exclusive interviews with executives operating in fast-moving industries. Bell2Bell's latest podcast features Brien Lundin, CEO of New Orleans Investment Conference and Editor of Gold Newsletter. The New Orleans Investment Conference, scheduled for November 1-3, 2023, brings together the world's most sophisticated investors to discover new opportunities and strategies, exchange ideas, plan for the coming year and enjoy the camaraderie of like-minded individuals.
To learn more about the New Orleans Investment Conference and secure your spot at the event, visit https://neworleansconference.com/
Throughout the interview, Lundin provided intriguing insights into the history of the New Orleans Investment Conference and highlights planned for this year's event.
"The New Orleans Investment Conference is the longest-running investment event in the world today. This will be our 49th year," Lundin said. "It has also earned a reputation over the years of being 'The World's Greatest Investment Event'. We're known for bringing together speakers and experts, including some of the world's leading thought-leaders in macroeconomics, various investment markets and even geopolitics."
"Our stage has been graced by the likes of Lady Margaret Thacher, Ayn Rand, Milton Friedman and Alan Greenspan. The list goes on and on and features many of the giants of modern history, economics and geopolitics. This year, we have what I believe is the greatest lineup of experts in our history and, by extension, in the history of any investment event. We've got people who can explain the very unusual and extraordinary events that are going on in geopolitics and economics. Because of this extraordinary environment that we're in right now, extraordinary thinkers have risen to the fore, and we've got them all."
"Anybody who is a serious investor should attend the New Orleans Investment Conference, including anyone who is concerned about a world in which the levers of the economy are being pulled by central bankers almost exclusively… For anyone who believes that the coming events are either risks to their wealth or opportunities to build their wealth, both sides will be presented at our event. These are unusual times that we're living through… and a number of things are going to be breaking in the days and weeks ahead. If you're concerned about that, this is the place for you."
Join IBN's Jonathan Keim and Bell2Bell's latest guest to learn more about the investment opportunities available to attendees of this well-recognized event series.
To hear the episode and subscribe for future podcasts, visit https://podcast.bell2bell.com.
The latest installment of The Bell2Bell Podcast continues to reinforce IBN's commitment to the expansion of its robust network of brands, client partners, followers and the growing IBN Podcast Series. For more than 17 years, IBN has leveraged this commitment to provide unparalleled distribution and corporate messaging solutions to 500+ public and private companies.
To learn more about IBN's achievements and milestones via a visual timeline, visit: https://IBN.fm/TimeLine.
About New Orleans Investment Conference
The New Orleans Investment Conference is the one place where the world's most sophisticated investors gather every year to discover new opportunities and strategies, exchange ideas, plan for the coming year and enjoy the camaraderie of like-minded individuals in America's most fascinating and entertaining city.
Speakers at the New Orleans Conference have included Lady Margaret Thatcher, former President Gerald Ford, novelist Ayn Rand, General H. Norman Schwarzkopf, Nobel Prize-winning economists Milton Friedman and F.A. Hayek, Dr. Henry Kissinger, Senator Barry Goldwater, Admiral Hyman Rickover, Louis Rukeyser, Sir John Templeton, Lord William Rees-Mogg, Charlton Heston, Jeane Kirkpatrick, Robert Bleiberg, Jack Kemp, William F. Buckley, General Colin Powell, Ron Paul and J. Peter Grace, among hundreds of other notables.
For more information, visit the event's website at www.NewOrleansConference.com
About IBN
IBN consists of financial brands introduced to the investment public over the course of 17+ years. With IBN, we have amassed a collective audience of millions of social media followers. These distinctive investor brands aim to fulfill the unique needs of a growing base of client-partners. IBN will continue to expand our branded network of highly influential properties, leveraging the knowledge and energy of specialized teams of experts to serve our increasingly diversified list of clients.
Through our Dynamic Brand Portfolio (DBP), IBN provides: (1) access to a network of wire solutions via InvestorWire to reach all target markets, industries and demographics in the most effective manner possible; (2) article and editorial syndication to 5,000+ news outlets; (3) Press Release Enhancement to ensure maximum impact; (4) full-scale distribution to a growing social media audience; (5) a full array of corporate communications solutions; and (6) total news coverage solutions.
For more information, please visit https://www.InvestorBrandNetwork.com
Please see full terms of use and disclaimers on the InvestorBrandNetwork website applicable to all content provided by IBN, wherever published or re-published: http://IBN.fm/Disclaimer
Forward-Looking Statements
This release contains forward-looking statements within the meaning of Section 27A of the Securities Act of 1933, as amended and Section 21E of the Securities Exchange Act of 1934, as amended. All forward-looking statements are inherently uncertain as they are based on current expectations and assumptions concerning future events or future performance of the company. Readers are cautioned not to place undue reliance on these forward-looking statements, which are only predictions and speak only as of the date hereof. In evaluating such statements, prospective investors should review carefully various risks and uncertainties identified in this release and matters set in the company's SEC filings. These risks and uncertainties could cause the company's actual results to differ materially from those indicated in the forward-looking statements.