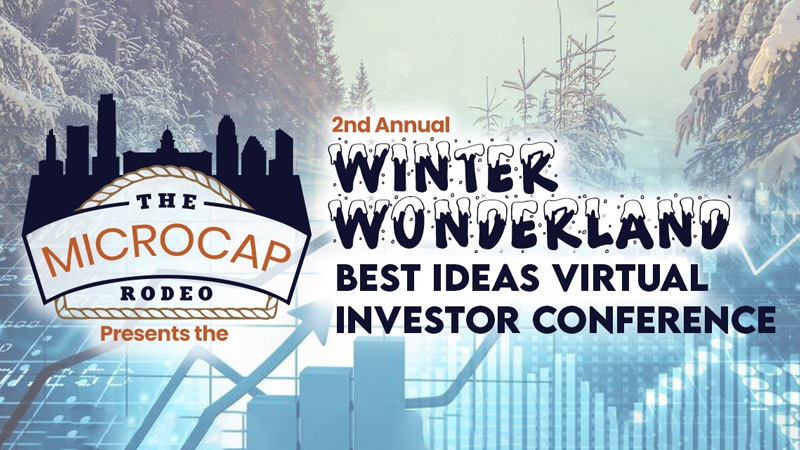 IBN ("InvestorBrandNetwork"), an innovative corporate communications firm and content distributor, is collaborating with The MicroCap Rodeo for the 3rd Annual Winter Wonderland Best Ideas Conference. The event will be held virtually February 21-24, 2023.
The MicroCap Rodeo will facilitate meaningful conversations between senior management of exciting microcap and small cap companies and qualified institutional investors. The specially curated environment is primed for business efficiency and to cement long-term collaboration.
In its capacity as media sponsor, IBN will leverage its array of extensive corporate communications solutions to elevate the visibility of the conference, senior management and participating institutions via an array of digital channels. IBN will also provide a complimentary syndicated article on each presenting company to amplify reach. IBN's coverage extends to 5,000+ syndication partners such as Apple News and StreetInsider as well as 50+ investor-oriented brands that have a collective reach of more than 2 million.
"The first two editions of this conference proved to be a great success. IBN is honored to work alongside their experienced team and connect our investor audiences with this exciting conference series," said Jonathan Keim, communications director for IBN. "We will leverage the latest tools in media strategy, social media management and press release curation to heighten outreach initiatives through thousands of downstream publishers."
To register for the conference, interested attendees can visit https://microcaprodeo.com/signup
About IBN
IBN consists of financial brands introduced to the investment public over the course of 17+ years. With IBN, we have amassed a collective audience of millions of social media followers. These distinctive investor brands aim to fulfill the unique needs of a growing base of client-partners. IBN will continue to expand our branded network of highly influential properties, leveraging the knowledge and energy of specialized teams of experts to serve our increasingly diversified list of clients.
Through our Dynamic Brand Portfolio (DBP), IBN provides: (1) access to a network of wire solutions via InvestorWire to reach all target markets, industries and demographics in the most effective manner possible; (2) article and editorial syndication to 5,000+ news outlets; (3) Press Release Enhancement to ensure maximum impact; (4) full-scale distribution to a growing social media audience; (5) a full array of corporate communications solutions; and (6) total news coverage solutions.
For more information, please visit https://www.InvestorBrandNetwork.com
Please see full terms of use and disclaimers on the InvestorBrandNetwork website applicable to all content provided by IBN, wherever published or re-published: http://IBN.fm/Disclaimer